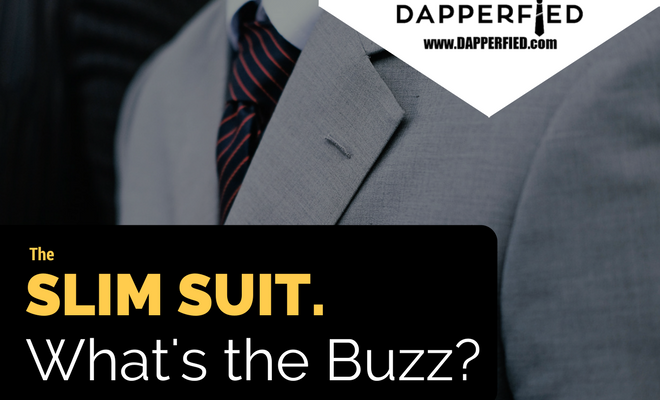 Style
The Slim Suit: What's the Buzz?
By
|
The days of the baggy, droopy suit are long gone, and we're glad to see them go. Here to stay is the popular slim suit, the suit that defines your body frame and gives you a more modern look.
If you've been noticing more and more slim suits in magazines, on billboards and on TV, there's a method to the madness. Read on to learn all about why slim suits are the new "in" thing – and why you should find yourself hopping on this trend that's here to stay.
The ins and outs of slim suits.
Slim fit suits are not skinny fit suits. Skinny suits are not for everybody and can often cling too close to your body, which can cause your suit fabric to crease and bunch up when you bend or sit down.
If you don't size them right, they are also often too short, showing much more leg than necessary when you're sitting down.
A slim suit, on the other hand, provides just enough of a close fit to make you look dapper and stylish, while leaving enough room for you to move.
They exude self-confidence, pride and good taste. The phrase 'dress to impress' comes to mind, as this is exactly what you'll be doing wowing those around you with your sense of style.
How to find the best slim fit suit for your shape.
Custom Tailoring your slim suit.
Your first choice is to go down the custom tailored route. Having a tailor who knows just how many centimeters to adjust to fit your measurements is priceless and you end up with a suit that is truly to your size – shoulders to ankles.
Getting your suit custom tailored doesn't cost much at a reasonable tailor these days, and the results are unmistakable.
Buying your slim suit Off the rack online or at your favourite local suit store.

The truth of the matter is, most of us aren't going to get our slim suits custom tailored. We're often too busy for that and it's easier to just get one that fits you off the rack.
This is totally okay too, and good stores (both online and locally) stock suits in a variety of sizes to ensure a close enough match to your body shape.
What we would recommend would be to visit a tailor regardless to alter the fit of anything you feel needs shaping up. Sometimes you need to get your hemline done, other times it's your waist that needs to be taken in or out.
Having a good tailor on board will help you achieve a fit that is as close to perfection as possible.
There's also the question of height and shoulder width to take into consideration – it's a no-brained that a tall, lean man and a short, broad man need two very different things when it comes to a slim suit.
Prior to shopping online for your slim suit, it is also a good idea to get measured up by your tailor so you can get sizing right from the get go.
Fit
Finding a slim suit that fits you best is a feeling unlike no other. You'll marvel at your reflection in the mirror, taking in how well your trousers and jacket sit on your body. There's no doubt that you'll feel much more well-equipped to deal with whatever the world throws at you. 🙂
Wrapping it up.
Considering purchasing your first slim suit? Give it a go! You'll be amazed at just how much it will add to your image whether it be for work or play!