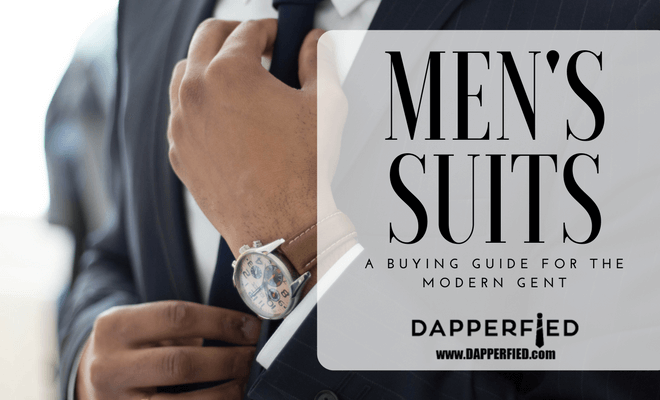 Style
Men's Suits: A Buying Guide For The Modern Gent.
By
|
Ah, men's suits. What's not to love about them? From job interviews to working in an office to other people's weddings, there are countless occasions in which you'll have to wear a suit. If you're a man in the modern world, you really can't avoid it.
Folks, welcome to the Dapperfied men's suit guide! We're about to dig in deep and touch on a wide range of topics that you are likely to consider when it comes to men's suits. There's a fair bit to get through so let's get stuck right in shall we? 🙂
Men's Suits: Importance of the suit in today's world
All of this begs the question: why suits? Why are they so important? Well, for one thing, they instantly look classy, professional, and stylish. If you want to look elegant, you can't do much better than wearing a suit.
For another, they can be adapted to every occasion. Whether an event is black-tie, white-tie, formal, semi-formal, cocktail, or even business casual, you will have tons of opportunities to wear suits throughout your life.
Suits are available in a variety of colours, materials, cloths and styles, which further ensures how very versatile they are.
And for a third thing, wearing suits is tried and true; time and again they have proven how very stylish they are. As a matter of fact, you only need to look to the history of suits (more on that in a bit) to understand how important these outfits are in the history of fashion, and culture more generally.
The historical record has shown, time and again, how important suits are in terms of Western clothing and fashion.
Suits for men: A history of the suit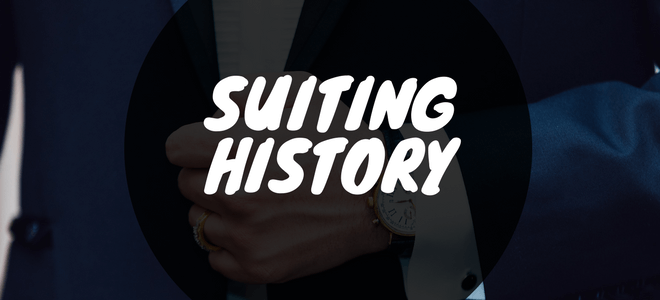 The history of the modern formal suit takes us back to the UK in the Early Modern period. Commoners weren't allowed to wear specific kinds details—colours like royal purple, and the usage of materials like velvet high-quality fur, for example—until the middle of the 17th century, thanks to the sumptuary laws which were at force in the country.
Only courtiers and the royal family had the right to wear these styles. But once a plague hit around this time period, Charles II ordered the nobles underneath him to start dressing with what The Atlantic calls a kind of proto-suit—that is, tunics and breeches and colours like gray, navy blue, and taupe.
These clothes eventually became more tailored and this style of clothing eventually evolved, in the early 19th century, to become the morning suit. This was more casual at the time, though today it's used for royal weddings and other such events.
In due time, the morning suit was followed by the tuxedo, which was initially developed in the 19th century.
Then, it was used for those night-time occasions which were the least formal. White tie remained the gold standard for more formal events; this practice has been upheld even into the beginning of the last century.
After this, the history of current menswear suits becomes confusing. We do know that, in Savile Row, tailors made clothes intended for both military and civilian purposes, and that with time their styles changed, as is often the case.
But we don't know when the first lounge suit (this being the technical term) was officially developed.
The first one we're aware of appeared in the middle of the 19th century, and before long it became not only a casual outfit for the richer peoples, but also a formal one for the working classes. The tailcoat, still popular in the 19th century, eventually gave way to the modern lounge suit.
The suit eventually came over to America, and today, all over the world, is the one single, definite way of dressing formally for all occasions. Neat!
Modern Suit Buying: The importance of fit
Having clothes that fit well will do all the difference for your wardrobe—without you necessarily having to change your style at all.
If clothes fit well, you'll look slimmer in your heavier parts, and the clothes will streamline and accentuate areas that you are quite proud of.
Basically, if your clothes fit properly, you will look—and feel—great all over the place, even in your less impressive spots.
And fit isn't about choosing clothes in the right size; even clothes in the right size can make you look like you're swimming, or like you're straining against the fabric. The key here is tailoring which we'll cover shortly.
Understanding the different types of suit materials and fabrics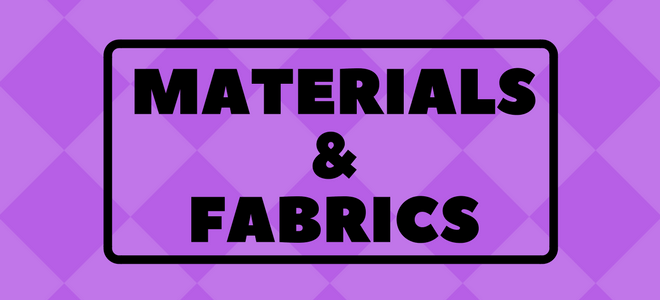 Understanding the material suits are made out of will help you choose the fabric that's best for wearing in a given environment. As a result, you won't just be stylish and well-dressed, but—if you choose the right fabric—you'll also be quite comfortable.
For example, let's look at cotton. Because it's a natural fabric, you'll be able to breathe well in suits made out of cotton. Also, it is good at absorbing moisture; this makes it a great choice for people who sweat more heavily.
On the downside, it's not very flexible, and it's lacking in stretch, so you can expect cotton suits to feel more restrictive than their counterparts. Also, if your cotton suit hasn't been shrunk before you bought it, then there could be shrinkage after you clean it for the first time.
Cotton is a bit on the casual side, for it's best-suited for semi-formal events.
Flannel, a type of thick, heavy wool, keeps its heat nicely in colder environments, so it's a good choice for fall and winter weather. It also manages to maintain the given structure of a suit.
However, you'll have to be careful when buying a suit made out of flannel: some of them don't look so great. Classic flannel suits, in classic colours like black and gray, are well-suited to a work environment.
Linen is nice and lightweight, which ensures that it stays comfortable and easy to wear. Therefore, linen is a good material for summertime suits. That being said, because of its low weight, it develops stains easily, and creases will sometimes press into the fabric, until you straighten them out.
Key takeaway here is that linen suits are best-suited for casual events taking place in the summer.
In colder environments, wool is ideal because it is good at retaining heat; as a result, wool suits are an excellent choice in wintertime. Wool is also a good choice because wool suits will keep their structure, even when the weather gets more intense. It is also well-suited to formal use.
However, it can get too warm and even create the feeling of "choking," if you're wearing it when it's too warm outside. Also, that picky sensation could grate on your nerves.
Polyester is an inexpensive, synthetic fabric which can—if it's assembled and woven properly— look great when paired with any suit. Such suits are also great because they're easy to find in stores. They are fairly durable when well-made, and are soft, though the fact that they're somewhat on the heavier side makes them ideal for spring, autumn, and sometimes even winter.
On the negative side, you have to find the right suit, since otherwise it could appear that your clothing is cheap. They're ideal for spring and fall suits, such as the kind you'd wear into everyday environments like work or casual events with your family and friends.
Tweed, a rough woollen material, is fairly common in suits. In general, tweed suits are thick and durable, which makes them great choices for when it's cold or chilly outside. It is also available in many patterns, designs and colours.
On the negative side, it's not particularly flattering for men who are heavier, and it takes some time to break in a tweed suit.
Suits made from polyester blend are—as you can tell from the name—composed of a combination of polyester and another material; this second material is usually cotton. The result is that the wearer can not only save money, but also enjoy the softness of cotton.
They are also nice and durable, so you can wear them for years to come. On the negative side, they can get damaged easily, so wear them only when it's nice outside. They are well-suited to spring and fall weather.
Understanding men's summer suits
Men's summer suits—these being, naturally, the suits you'd wear during summertime—are exceptionally important in warmer weather. After all, if you keep wearing the same heavy wool suit you wore in winter—or even spring—then you'll feel stuffy, hot, and all-around uncomfortable.
Summer suits for men come in to fill this gap: they're more comfortable, because of their lightweight, breathable fabrics; they allow for greater movement, dynamism, and flexibility; and they're best suited to whenever it's hot outside, even if it's not quite summer yet, or if it's still fall.
But when it comes to summer suits, you'll need to know when to wear them, before you decide to purchase them. They're usually a good choice for work and formal occasions. However, if you only have a short commute to and from work, you might find that you don't need a suit just for summer.
As for formal occasions, make sure any summer suits you wear are well-suited to the task: they must look professional and formal enough to fit the task, and they'll have to remain comfortable when worn over long periods of time. With regard to the first point, for example, linen suits often crease easily, which means that not every linen suit is fit for formal wear.
Ideal materials for summer suits include cotton (versatile, available in many colours, comfy fit); linen (lightweight, flexible; a breathable fabric that lets you move): fresco wool (airy, breathable, and durable); and seersucker (this referring to when clothes, often made of either cotton or synthetic fabrics, have a pattern featuring puckered and flat sections).
Find quality summer suits here
Understanding men's winter suits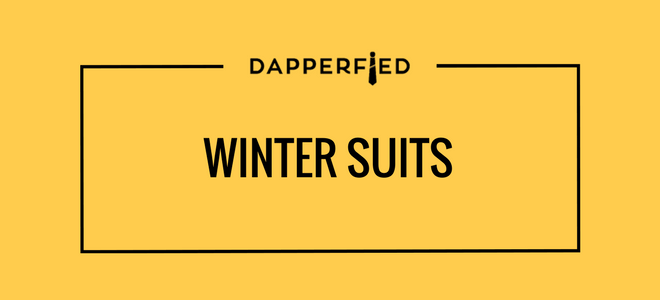 Unsurprisingly, men's winter suits are the kinds of suits you'd wear in winter. These tend to be made out of thicker, warmer materials; wool is a classic example. Other examples include luxurious cashmere, tweed, flannel, and herringbone. They're best suited for events that take place in the winter, such as Christmas parties and winter weddings.
You can also wear them to work if you work in a more formal environment. They are not typical well-suited for wearing all year round, so be appropriately wary if a company says that you can wear a given suit any day of the year.
Winter suits for men also have the characteristic that they will retain their shape better because they are made of thicker, more solid materials. You should wear them when it's sufficiently cold outside and, of course, if you're in an environment where it gets cold in winter. Some of our South American friends might be okay without one, after all.
Understanding men's spring suits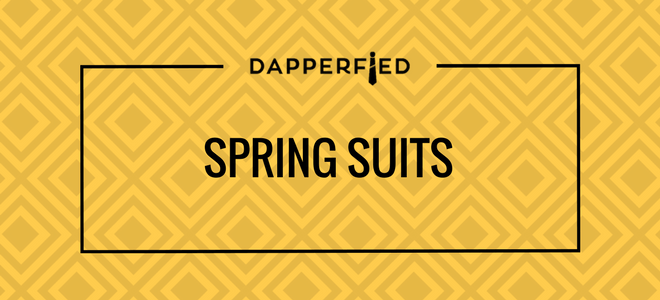 Similarly to the last section, men's spring suits are the kind of suits you'll wear during springtime. As such, they're well-suited, again, to events that take place in spring, like fancy springtime birthday parties, spring weddings, and working days in the spring.
They're made of materials which are lighter and more breathable; they're more flexible, and offer you greater range of movement, than their wintertime counterparts. Spring suits for men are often made out of materials like wool, cashmere, cotton, polyester, silk, and linen.
That being said, polyester suits are often of worse quality, so be careful before you buy. Also, depending on the weather outside, you might not need to wear a spring-specific suit at all; you can simply wear the same suit that you wear during the rest of the year. This can be helpful if you work in an environment where you need to wear a suit most days.
Men's Suit Jackets: A quick rundown

How your jacket should fit
Your suit jacket should frame and structure your figure; this will help make you not only look stylish, but also like you're in good shape. For this purpose, you'll have to watch out for several aspects of fit, which we'll discuss in more detail below.
Length of the jacket
In order to fit properly, jackets must cover your butt all the way. Also, you can measure the length by looking at your thumbs. The length of the cuff should fall between the base and the knuckle of your thumb.
As for the back, start by measuring the distance between the bottom of the back of the collar of your shirt, and the bottom of your foot. The length should measure about half of this distance.
Men's suit jacket Shoulders
The seam of your shoulders should arrive at the corner of your shoulder, but it should also leave enough room for any shirts, sweaters, are cardigans that you have on underneath.
If a jacket fits properly, the shoulders must be smooth, with no divot (i.e., the indent that falls below the seam), when you stand and stretch your arms out toward your sides.
Similarly, if you opt for padded shoulders, make sure that they fall smoothly and evenly, so that it doesn't create an abrupt, strange appearance.
Types of suit jacket shoulders
In menswear, there are four main types of shoulder style. First, roped shoulders have a little padding, but their large sleeves move upwards at the line of the shoulder. These are an important part of Italian fashion.
Second, broad padded shoulders have a wide, broad fit, and they employ pads to make your shoulders seem larger and thicker.
Third, a suit jacket has lightly padded shoulders when there is a bit of padding around the shoulders, enough to give the jacket structure, and thus retain its shape.
Fourth, soft shoulders, aka "unstructured shoulders," feature either a very thin pad, or no padding whatsoever. This creates a sloped shoulder line, which moves smoothly into the line of the sleeve. It is a more casual style, well-suited for weekend suits and sport coats.
Suit jacket Vents
"Vents" are those openings found on the back of suit jackets. Their purpose is to help make it easier for the wearer to move around, for a more flexible fit; he can have some additional mobility. They were originally used in the days where riding on horses was a common type of transport.
Riding is long, arduous and time-consuming, and therefore the vent—at the time, there was a single vent, which took the form of a slit going right down the back—allowed men's jackets to slide down on both sides of the horse, allowing him more breathability and freedom of movement.
Most jackets will have one, two, or no vents. Single-vent jackets—this style is called "the American"—will look good on most men. They won't really complement the shapes of most men, however, and they can sometimes look like they're of lower quality. Most jackets have a single vent.
As for double-vent jackets, these are ideal for men who aren't of average height and build (i.e., those who are tall or short & those who are heavyset).
They will help your figure look streamlined and uniform and also flatter those body shapes mentioned earlier: short, tall, heavyset. They're also ideal for men who have a toned physique.
The same can be said for no-vent jackets, which are associated with Italian fashion. These jackets tend to fit very well and be more form-fitting; as such, they're ideal for shorter men, whether they're slimmer or a little stout, since they wrap more tightly around your upper body and make your hips look slimmer.
Arms
Half an inch from the cuffs of your jacket should be visible at your sleeves, but not more than that. Furthermore, it can't be too tight; if it is, you'll feel restricted, and you won't have the ability to properly move your arms.
Also, go for sleeves with a smooth, straight cut, rather than billowy ones. These will look either overly fancy or overly ridiculous, depending on the situation. Instead, your sleeves should naturally follow the shape, curves, and contours of your arm.
Chest
Your suit shouldn't fit too tightly at the chest. If it does, you'll find that your breathing becomes restricted, and you'll have trouble moving your arms and torso. Your lapels should lie against your chest.
Moreover, you shouldn't be able to see any space between your chest and the front of the jacket; it should be covered up properly. When you wear the jacket, you won't be able to see the buttons pushing/warping; if you do, then that's a sign that it's too tight in the chest area.
Other
You must also watch out for the silhouette of your back. It should be loose enough so that you have a decent range of movement, but also tight enough that it doesn't move around unduly.
If the back of your suit is flapping and flipping around, you know instantly that there's a problem.
As for the sides, these shouldn't fall straight, all the way down. Instead, they should taper down, and become slim toward your waist area, with the eventual result of belling around your hip area.
This style, which is known as suppressing your waist, will accentuate the V shape of your chest.
Men's Suit button configurations
Suit button configuration—i.e., where the buttons can be found on a suit jacket, and how many buttons there are —is an important, if often neglected, part of choosing a suit. Generally, suits today are assembled in such a way that you don't need to do up the bottom button.
Both single and double-breasted suits might have one, two, three, four, or more buttons. Two-button configurations creates a kind of timeless elegance; the top and bottom buttons are symmetrical, with the result that the suits often look better than their single-button counterparts.
In the case of double-breasted suits, you can wear them with one, two, or three buttons, or even four or more. Four or more buttons is not recommended for single-breasted suits. Buttons come in different configurations as well; these include 4×2 (square), 4×1, 2×1 (rare), 6×2 (traditional), and 6×3 (military-like in appearance).
Vital rules for buttoning your suit jacket
Buttoning your suit properly will make you seem like you're aware of proper etiquette, and will show that you are detail-oriented. Also, your outfits will naturally look better on you.
In the case of single-breasted suits, keep the button open when sitting and standing when closed (if there's one button), and the bottom button undone (if there are two).
If you have three buttons, however, you can leave the bottom button unfastened, or button only the center button and leave the other two undone. The latter possibility is a good choice for when your lapel is flat. But if the lapel is soft and moves past your first button, then you should only do up the one button in the center.
For double-breasted suits, fasten all buttons except the last one, although you can choose to fasten that one too if you really want to.
Suit Jacket lining
The lining of your jacket—that layer of additional fabric along the inside of the suit—adds structure, weight and depth to the piece. It stands to reason, then, that a suit jacket with a full lining will be heavier and warmer, with the result that winter suits often have thicker linings.
In contrast, summer and spring suits have thinner ones, and some suits don't have linings at all. The extra fabric makes a kind of outer layer between your body and the rest of the suit, adding additional comfort and structure.
In order to choose the lining of your jacket, you will need to consider the season and the temperature outside, as we've said already. However, you will also need to consider the materials of your jacket. Linings can be either natural (silk, cashmere, wool, etc.) or synthetic (rayon, acetate, polyester).
Because the lining is against your shirt—which could be as much a stiff dress shirt as it is a thinner polo—you'll want to make sure that the material is comfortable, whether it's synthetic or natural. Also keep an eye out for flexibility and range of movement, which again will depend on material.
For example, acetate is more crisp, whereas polyester linings are often lacking in breathability and thus not as comfortable.
Understanding men's suit lapels
Lapels are that section on your suit jacket, right below your collar; they're usually folded back. There are different types of lapels. The notch lapel is the one in which the bottom of the collar and the top of the lapel intersect; this is the most common type.
There is also the peak, or pointed, lapel; these tend to be more formal, and thus are appropriate for morning coats and tailcoats. They have been around for more than a century.
There is also the slim peak lapel; this is (as you can tell from the name) the thinner version. Shawl lapels are rounded on the edge, and are often found on tuxedo, dinner and smoking jackets. Thus, they are very formal, and might even be appropriate for special black- and white-tie events.
Narrow or wide lapels
The lapels on your outfit can be narrow or wide, depending on the kind of outfit you're wearing, the materials it's made out of, and where you plan on wearing your outfit. Narrower lapels, such as the slim peak, are appropriate for formal dinners and black-tie events.
As for wide lapels, they are more well-suited to broader or heavier men. Narrow and wide lapels are both "trendy," in that they tend to be more modern and less classic. They look good, but are not well-suited to every formal occasion.
Meanwhile, classic lapels tend to stick within certain boundaries (usually under 10 cm), although they will of course vary with the size of the jacket. Also note that lapels and ties can be of different widths, contrary to popular beliefs; they don't have to be the same length/width.
Understanding single-breasted suit jackets
If a jacket is single-breasted, this means that only one row of buttons shows once it has been fastened. You can get single-breasted suits with one, two, or three buttons; all three options look great. Also note that single-breasted suits have more of a slimming effect than their double-breasted counterpart, since the single row of buttons ensures that your frame looks narrow rather than broad.
These can be considered a little more casual than their double-breasted counterparts, but still maintain a somewhat dressy look, which means that you can wear them to work as well as more formal events with no problems. Heading out to an office parties or a four-star restaurant? A single breasted jacket will do.
Double-breasted suit jackets
Double-breasted suit jackets are those which have two visible rows of buttons after they've been fastened. The double row of buttons gives the eye something to focus on, which will ensure that you create a more striking, memorable figure when you're wearing one.
They are more formal than their single-breasted counterparts, and as such are ideal for formal events, like weddings and fundraising galas. Wearing one in a pale colour, such as beige, is a terrific idea for summer.
Please be aware that the double line of buttons will draw attention to your chest area, so you should be more careful when choosing a double-breasted suit if you're on the stocky side.
Suit Jacket pocket options
One thing you might not have known is that there are different kinds of jacket pockets. One type is the patch pocket, which are sporty types often found on informal suits, like those made out of linen. There are also jetted pockets; more formal than other types, they have no flap.
The ticket pocket, which we might refer to as a third outer pocket, is usually found above the right pocket, and is about half as wide. Historically, men used them to store train tickets.
As for flap pockets, these have a flap made out of matching fabric, which covers the upper part of the pocket.
Suits for men: Pants

How your pants should fit
Your pants should fall at the top of your pelvic bones, right underneath your belly button. Dress pants tend to be more conservative, in that they won't be as tight-fitting. In other words, with dress pants, you won't be able to see the shape of your butt below your clothes.
Thus, you'll want to have some level of draping, but without wearing loose or flowy pants. Also, as for cut, the trousers should be slim to the point where you don't need a belt, but—if you choose that you want to wear one—it won't cut into your waist and cause you pain.
Trouser breaks
A trouser or pant break is created when the fabric of your pants goes beyond your leg. The result is a "break" in the pants material; it makes a kind of cracked or fold shape. This develops in your shin area, near the place where your cuff meets your shoe. Pants with no breaks will not appear bent at the front, and the cuff will touch the edge of your shoes.
Full breaks refer to when there is a deep crease, because of the breakage caused by the leg. In fact, this breakage might be such that adding more length will create a new, second break.
In between these extremes, you find the half break, also called the medium break. The line of the pants will bend, and in such a way that you can see them, but it won't be a significant bend.
As for quarter breaks, which are also known as slight breaks, this refers to when your pants and shoes meet, and there's a slight break.
Pleats and pockets
Pleats can either be forward- or reverse-facing; the former face the middle of the pants, while the latter face the outside of the pants. Pleats can be combined, so that they're either single or double. Their purpose is to sculpt your figure and shape.
Pleats will make your butt area look more loose than it ought to, so be judicious when choosing them. They are well-complemented by welt pockets in the pants. This basic type refers to the standard model of pockets, in which there's an opening in the side or the top of the pants.
Welt pockets can also be vertically cut; the pocket moves through the pants' side-seam in this case.
Cut
The cut of your pants can make your figure look nice, thin, and muscular—or, alternately, unstructured and disorganized. If you don't wear the right cut, you can even add the appearance of a few pounds to your figure. It's for this reason that, when you're searching for pants for your dress shirt, you must search for exactly the right type of cut.
Slim cuts, unsurprisingly, make your legs look long, lean, and thin. Straight cuts move straight downward, and thus create a streamlined look.
Normal or relaxed cut is great for casual settings, and as such might be appropriate for a workplace. They are good for most body types, though they often have a little extra room, sometimes to the point of appearing boxy.
There are also skinny pants, which are even slimmer than slim cuts, to the point of giving a tight appearance. That said, you won't often find these in formal wear.
Shirts

Collars
There are several things to consider regarding the collar of a given shirt. For example, there are the points (which are the tips on the collar), the height of the collar in its folded shape around your neck, the space between your collar and your tie, and the length between the points and where they meet the band of your collar.
This can get technical, so a good idea is to just judge—based on what you know of menswear, and what you see in person when you're looking at a given collar—the appearance of a collar on your own, rather than getting bogged down in details.
That being said, you often will need to watch out for the type of collar that you end up choosing. For example, there is the classic collar type, which might also be called the straight point collar. There is a small spread between the points of the collar with these models.
A similar model is the narrow straight point collar, which is quite the same, except that the there isn't much space for your tie.
Button-down point collars, have their button holes perched on the top of each collar point, and there are corresponding small buttons on the inside of the front of your shirt. It can be worn with a tie, but—because it's more formal in general—you generally won't find that you'll need one.
Moreover, there are cutaway collars, also known as spread collars. These feature points that spread up and out, with the result that there is more space in the upper part of your shirt area, near your chest. You will even have room to display larger kinds of knots for your ties, like the Windsor knot.
Cuffs
Cuffs can make or break a nice dress shirt. That being said, the type of cuff that you choose will depend on what kind of outfit you're wearing, and how formal it is. Also keep an eye out for cuffs that have buttons; if you don't like the buttons of a given model, feel free to buy new ones at the store.
That way, you can wear the same shirt to a number of different occasions, but class it up (or dress it down) depending on how fancy or non-fancy a given event is.
Let's talk about types. Barrel cuffs, also known as button cuffs, are the traditional kind with buttons. They are contemporary and modern, but elegant nonetheless. Most shirts have cuffs like these. Some are convertible; they have two holes, so you can remove the buttons and wear the shirt with cufflinks instead.
There are also French cuffs, also known as the double cuff. These are meant for specifically for formal dress shirts. They have two holes, which again are meant for fastening cufflinks. They're more formal than other types, and look especially good with knot-shaped cufflinks.
Finally, there is also the turn back cuff, which you might also call the James Bond cuff. This one has buttons, but is also as elegant as the French cuff.
Colours to consider pairing with your suits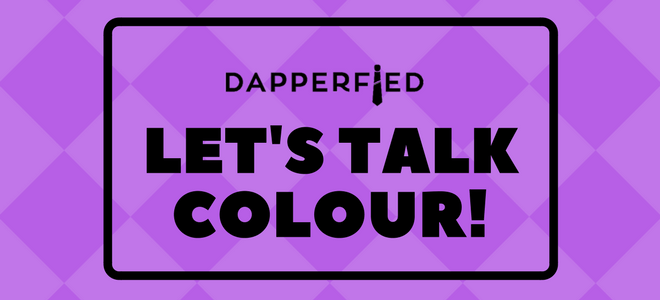 A classic periwinkle colour will go well with many suits; consider wearing a tie with stripes of periwinkle, or a pocket square with a design that incorporates this beautiful shade of pale blue.
Classic dark colours, like royal purple, bottle green, and burgundy, will look good with any kind of suit, especially if they're in paler colours, as it can help create an ideal level of contrast.
Other shades to add a touch of colour to your suits include pale pink and pale purple. You can also consider mixing with other light colours, like green, orange, and yellow, but be judicious in your usage of them; they tend to be less commonly seen in formal wear.
Colours that go well with staple suits
Staple suits tend to be in the colours of gray in various shades, including charcoal; navy blue; and sometimes black. There are a few colours that work exceptionally well with these hues. For instance, any of these neutral colours will look good together, so you can definitely wear a medium gray short with a navy blue suit jacket.
If you're wearing darker shades of blue, don't hesitate to pair them up with paler shades, like periwinkle and sky blue. If your suit jacket is black or dark gray, it will look exceptionally good with a white shirt.
Finally, if you're using these staple suit colours, look to use colourful accent items. For example, you can definitely wear a tie which incorporates both the colours of the rest of your suit and a more fun colour, such as bottle green or burgundy.
Best collars for face shapes: choosing collars
It sounds cliché, but pairing the right collar with the right shape of face really will help you look better and more stylish. For example, if you have a round face, then seek out collars that make your face and neck look longer; they will have narrower points, as well as buttons.
If your face is angular, you should look for collars that have a wide or medium spread, since they'll make your face look wider.
As for oval faces, men in this position have a lot of flexibility, but can in particular wear medium-spread collars.
How to dress dapper and create a modern suit style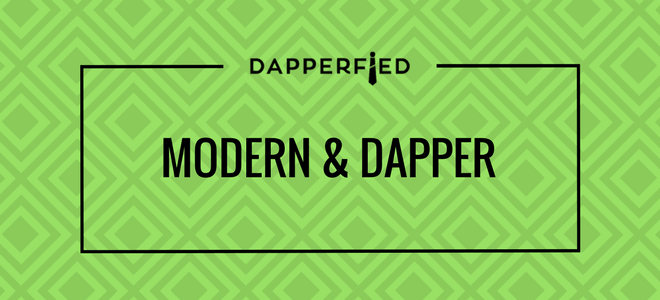 You can look dapper by making sure you've got the right fit. If there's one takeaway you get from this article, it's that clothes that fit well will help you look great, no matter what kind of outfit you're actually wearing.
Moreover, while you are looking to create a more modern style, don't be afraid to seek out vintage pieces like bowler hats, old-fashioned ascots, and even pocket watches.
They can help you create a unique style that's all your own. Don't neglect other small, but potentially vital, accessories—things like pocket squares, cufflinks, and neckties—since these can be a great way of developing your own personal style.
The modern look: How to put together a modern suit
1- Make sure the fit is right.
The proper fit can make or break a suit, so make sure the fit is perfect for you before buying.
2- Wear classic shades.
Navy and charcoal gray suits will always look great, no matter what month of the year it is. They are fundamentally timeless.
3- Find the perfect tie.
The perfect tie, whether solid or patterned, can help spruce up any outfit. Find a few ties that you love and are happy to wear, and you'll be set.
4- Match your jewellery and accessories with each other.
Cufflinks should match eyelets and other jewellery; shoes should match belts. That way, you can use your accessories to create a look that's nice and uniform.
5- Take proper care of your clothes.
Extend the lives of your suits by dry-cleaning them, storing them properly in the right temperature, and being careful when you're wearing them. This way, you really can get more bang for your buck.
6- Get to know local crafts makers and artisans.
They can show you their creations, and they'll know which ones will be best for you.
7- Similarly, befriend your tailor.
When you need to wear suits often, it's only natural that you'll be seeing your tailor a lot as well. Be kind to them, and get to know them; they can help you find those designs that are best for you.
8- Don't be afraid to check out the "vintage" section.
Vintage clothes are still sold for a reason: they're considered classic and timeless. Older styles will often add a unique touch to your outfit as well.
9- Know your measurements.
If you know all your measurements, you can both get the perfect outfit and save your time.
10- Avoid outlet shopping.
Outlet clothes are cheaper because they're generally not of the best quality. In some cases, clothes might even be of lower quality than what you'd find at the store. Go for your menswear depot or tailor instead.
11- Don't neglect vests.
Vests can look great if you want to swap out your regular blazer for something more comfortable.
12- Watch out for your socks.
When you stand up, no one should be able to see them. If people can, this means your pants aren't long enough.
13- Unfasten your buttons when you're sitting down.
Otherwise you'll look your clothes aren't comfortable, and even like you're straining a bit.
14- Don't wear horizontal stripes.
These will have the effect of making you look bigger than you really are (and not in a muscular way).
15- Wear your tie properly.
It should reach your waistband, and not be shorter or longer. Also wear a tie clip, if the situation calls for it.
Wearing jeans with a suit jacket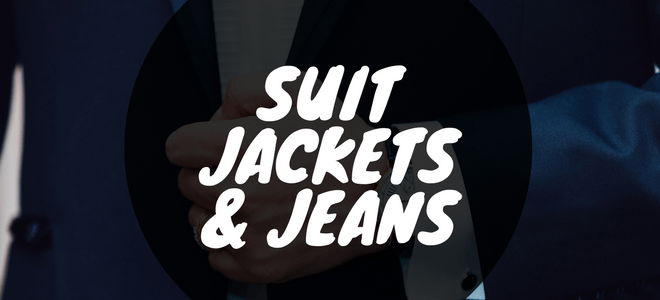 Dress up the rest of your outfit.
Jeans tend to be less formal, so they'll look great if you pair them up with more formal pieces. Therefore, consider wearing a high-quality suit jacket; don't be afraid to wear one that's made out of silk or cashmere.
Find the best jeans.
A high-quality suit jacket will also look good with high-quality jeans. Look for those that are made out of high-quality denim and which have stylish, yet flattering designs.
Go for a stylish, timeless style.
With your jeans, avoid ripped knees or anything overly trendy. You don't want to look like you belong in the 1990s – unless that's your thing, in which case c'est la vie.
Don't neglect your shoes.
Informal(ish) jeans + formal suit jacket = stylish outfit, but even more so if you have the right shoes.
Remember that oxfords look great with anything, whether the event is just a touch formal or incredibly formal overall. Brogues can also look great in formal events, particularly if they have intricate broguing.
Jewellery can add another touch of class.
The more casual style of jeans will look good with jewellery which tends to be more casual (outside of wedding rings and religious necklaces). Consider chain necklaces, fun rings, or even a nice bracelet.
The importance of blazers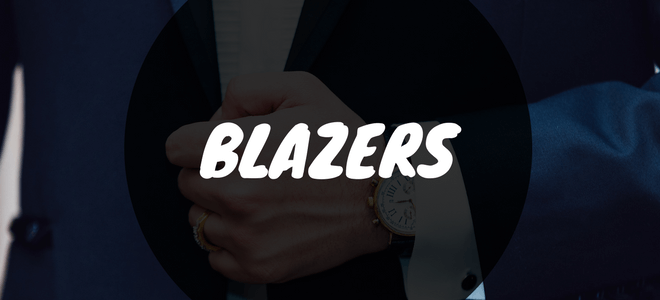 Blazers will always look great (provided that you wear them in the right context), and this is for a number of reasons. For one thing, they straddle the line between casual and formal, but still manage to look great doing so.
For another, there are different blazers with different levels of casualness. Some are sports blazers, and therefore are great for being out on the town or everyday work situations. Others are more formal, and thus are suited for events such as dressed-up presentations at work, some formal parties, and even some weddings.
And for a third reason, blazers are easy to find; you can find models upon models—including a lot of great models—in any menswear store. Don't neglect this vital piece of menswear; they help many an outfit of years look great.
1- Blazers are a good option for polo shirts.
Both blazers and polos themselves are maybe middling-casual, which means that such garments will match and complement each other. Don't be afraid to dress them up with dress pants to add a more formal touch.
2- Oxfords go great with blazers.
Dress pants are a good way of adding a formal touch—and so are dress shoes. In particular, oxfords are an especially good option, thanks to their stylish, clean, no-nonsense design. You can even wear them laced up or down, to add more variety.
3- Don't wear your blazer too tight.
If you find that it forms the shape of an 'X' around your torso, then you're wearing it too tight.
4- Similarly, don't wear it too loose, either.
With blazers that are too loose, the shoulders will go past your natural shoulders.
5- Don't wear them with cardigans or vest.
If you're wearing a piece that's bisected in the middle on top—a blazer, in this case—then the garment on the bottom should not be bisected at all. Instead of a cardigan, wear your blazer with a sweater, turtleneck, or dress shirt.
Overcoats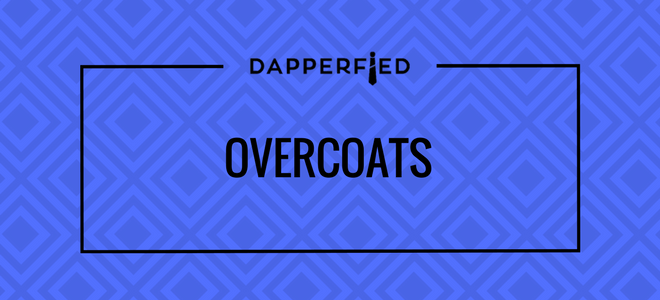 Overcoats are worn over your suit jacket and shirt. They are best for colder weather, such as during autumn or winter. They can be suitably formal if you find the right models, so don't hesitate to wear them to elegant events, provided that the weather is colder.
You wear them by putting them over your clothes and then stepping out into the cold; usually, you'll take them off when you're inside. They are worn long, usually down to your knees, or just about.
1- Overcoats must be warm, so consider 100% wool.
2- Tweed is also possible, because it's nice and warm.
3- But make sure you're comfy in your overcoat; you shouldn't feel strangled or suffocated.
4- Take careful note of your measurements so that you can get the right fit.
5- Black and navy don't just look good with everything; they'll also hide dirt and imperfections.
6- But bold ones can be a good choice too: consider bright red if you're feeling a bit risque.
7- Alternately, you can go for dark, vibrant colours, like hunter green or sky blue.
8- Go for a good length: they should fall at the knee, or right on top of it.
9- Ditto for sleeves: keep them an inch beyond the sleeves of your suit jacket.
Understanding tuxedos
Tuxedos are the most formal kind of suit that is still commonly worn today. (You won't see many men walking around in full tailcoats and opera clothes anymore!) These outfits are more formal than other kinds of suits, and as such are best suited for black and white tie events.
Because they're more formal, they're made of thicker, high-quality materials. Tuxedo jackets have no tails, are generally made out of silk, and tend to be black in colour.
The pants match as well; they're purchased together, and therefore made of the same materials. Such materials include wool, silk, and satin (natural fabrics), as well as synthetic fabrics like polyester or rayon.
Men's Formal suiting: 10 tips
1- Make sure your tops and bottoms match.
2- Allow half an inch of shirt to show beneath your jacket sleeves.
3- Ensure that your pant legs brush the tops of your shoes.
4- Wear the right measurements for optimal fit.
5- Wear the right collar: notch or peak for work, shawl for fancy events.
6- Single buttons are a good choice for evening wear. Two or three are best for less formal occasions.
7- Slim cuts look great with every figure.
8- Add some flair with a cummerbund, braces or pocket square.
9- Ties, ascots, or bow ties can also add some creativity.
10- Or you can wear cufflinks to add a little style to your non-tuxedo outfit.
Black tie vs. white tie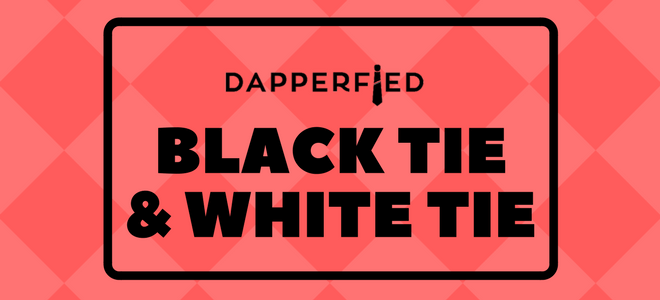 First, note that black tie and formal wear are not the same thing. On the contrary, black tie clothing is meant for evening wear; you generally don't wear it during the daytime, as might be the case for other kinds of formal wear. It's also not meant for costume usage.
Instead, you're meant to wear black tie during the most formal of formal events. You don't have a lot of flexibility, except on some of the smaller details. For men, black tie involves these kinds of pieces: black, single-breasted tuxedo jackets; shawl or peaked lapels; construction made of satin and grosgrain; and black buttons that have the same facing as the lapels.
Vents are also an important component; although not all tuxedo jackets have them—the lack thereof is in fact preferred—those that do, tend to have double vents.
As for pants, they must match the jacket perfectly, with the outer seams being made of the same material as the lapel facing. Trousers have high waists, usually with plain fronts, and which may have pleats. Also important is the waist covering, which be made of either a vest (that is to say, a formal waistcoat) or a cummerbund.
Let's talk about white tie next. This style of suiting up is used for evening wear. As is the case with black tie, you don't have a lot of leeway if you're trying to dress with a white tie style. It consists of full evening dress; a black tailcoat is paired with a white waistcoat.
The pants are black and pleated; there is a white bow tie; and the dress shirt, white in collar, has a wing collar. There are also leather pumps, and cufflinks as well as studs.
1- Careful with your cuffs.
These should be 1/2 to 1 inches below the cuff of your jacket.
2- Clean your outfit with a fabric brush.
After you've dressed, use a fabric brush to give yourself a once-over.
3- If you're wearing a single-breasted jacket, don't button the last button.
This will prevent you from looking like you're wearing tight-fitting clothes.
4- Your pants should reach your shoes, but not go past them.
Whether you end up with your socks showing or your pants too long, both looks are unprofessional.
5- Your tie should reach your waistband.
Also note that it shouldn't be too wide or too skinny, and should not go past your waistband.
6- Ties and pocket squares should be sufficiently different.
You can match their colours—for example, a bottle-green detail in your tie, compared to a bottle-green pocket square—but if they're the same, the overall effect will be cheesy.
7- Don't neglect collar stays.
These are a must if your collar tends to curl up.
8- Brown shoes are versatile and flexible.
As such, they'll fit easily into most formal outfits.
9- Match your accessories.
For example, your cufflinks and watch should be made of the same metal.
10- On that note, don't forget about tie clips, tie bars, or cufflinks.
These small details can help you look all the more professional in formal settings.
Men's Casual suits: 10 suiting ideas to keep in mind.
1- Bracelets or watches look great with casual outfits.
Bare wrists aren't as stylish as wearing that perfect accessory.
2- Don't try too hard.
Above all, go for looks and pieces that you like. The style will come along the way.
3- Mix pants: khakis, corduroys, chinos.
Mixing pants is a simple yet effective way of adding new textures and materials to your casual outfits.
4- Classy shoes go well with otherwise casual outfits.
Loafers and oxfords go great with every outfit. Brogues can also add some style spice, thanks to their artful perforations.
5- Layer your clothes for extra versatility.
Layering your pieces will help you look great, as well as ensure that you're dressed properly for the weather. For example, if it's too cold, you can simply take off your jacket.
6- Wear dressy and casual clothes at the same time.
For example, consider wearing a sports coat with dress pants. This way, you can look great in any environment.
7- Pants don't need to match your shirt.
As long as the colours go well together, in casual styles, pants and shirts can be different.
8- Solid, dark boots and shoes are always great.
They're durable, multi-purpose, versatile, and always stylish. A wonderful option for your casual getup.
9- Adorn yourself with beloved brands.
Remember how we said mixing dressy and casual makes for a good casual look? Well, it's true. And you can create that "casual" look with your favorite brands, such as by wearing the logo of your favorite band or sporting goods brand.
10- Be yourself.
Even with casual clothes, there's no point in pretending to be someone else. Don't imitate others; instead, create your own style. You'll be happier that way.
Men's suits for work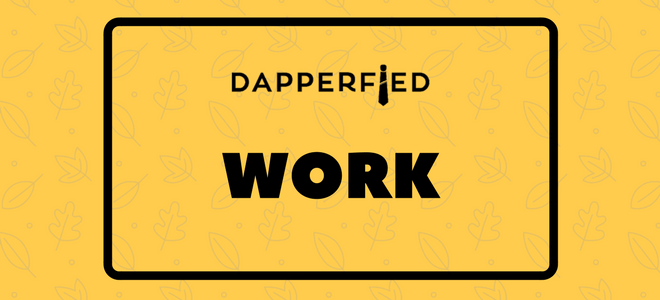 1- Wear expressive patterns with your tie.
An elegant yet funky tie can be a perfect way of adding pop to your outfit.
2- Similarly, statement accessories can be a great choice.
For example, fun cufflinks (like those shaped like sailboats) can add a touch of "you" to your outfit.
3- Pale shirts work well with suit jackets.
Colours ideal for work include powder blue, pale purple, and pale pink.
4- Neutral suits are a must-have.
Neutral suits (i.e., those in navy, charcoal, or gray) work well with formal or semi-formal work outfits.
5- Look professional.
Shave properly, shower well, and maintain hygienic practices in general. Cologne can be a good choice as well.
For more on suiting for work, check out our comprehensive article on dressing for the office here.
Wearing a suit for an interview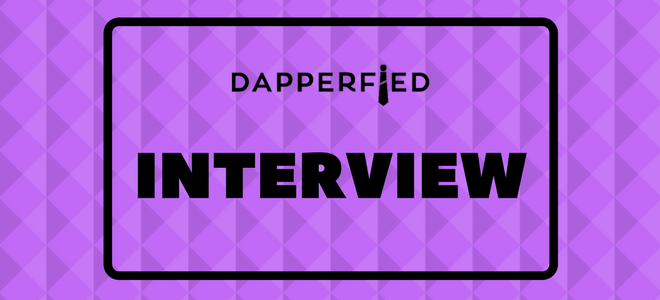 1- Suits in navy, charcoal, or gray are a must.
They are well-suited to both formal and semi-formal business attire.
2- Sports jackets, on the other hand, are too casual.
Avoid them until you've got a feel for what your job is like, and how casual your outfit needs to be.
3- Go for 100% cotton, rather than a blend.
100% cotton looks more professional than polyester-cotton blends.
4- Lace-up shoes are the norm.
Lace-up shoes will be perfect for every office environment—which is good, since at the interview stage you don't know how formal the environment is.
5- Watch out for the small details.
Fasten your buttons properly; tuck your shirt in. These things simply can't be neglected.
Wearing a Suit for graduation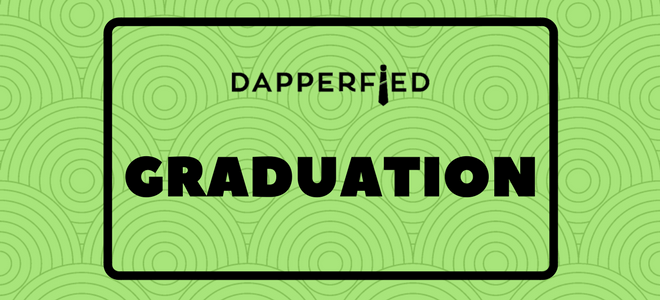 1- A white shirt is a classic, excellent choice.
These are timeless for a reason: they go with everything.
2-If not white, other pale colours are great.
Powder-blue, lavender, lilac, and hot pink will go well with your suit jacket.
3- In the shoes department: loafers or brogues.
Brogues will complement the fanciness of your outfit, whereas loafers go well with everything.
4- Wear the right watch.
Graduation watches can be made of metals like silver or steel. They also look great with leather straps.
5- Light colours are good for summer graduations; darker, for winter and autumn.
This way, you can protect yourself against the elements, and look fashionable at the same time. Neat!
Men's suit styles: Suiting up for a wedding
Grooms
1- Bright colours are excellent in summer.
Summer is the perfect time to wear pale colours, like pale blue, pale purple, beige, or ivory.
2- Get the perfect fit.
If there's one day that fit is more important than anything else, then it's your wedding day. Buy your suit in advance so you can try it on, and go over to your tailor to fix any problems.
3- Statement pieces? Yes, please.
Go for a fun tie, fun cufflinks, or even a fun blazer with a cool pattern. It's your special day, after all.
4- Classic, neutral suit colours work well.
Navy, gray, charcoal, or even black: these are mainstays at weddings, and will serve you well.
5- Consider renting your suit.
You might not necessarily wear your tuxedo again, so renting can be an eco-friendly, cost-effective option.
If you are considering going this route, check out a service like The Black Tux. It's a great way to get into high quality suits and tuxedos for a sliver of the retail price. Highly recommended.
6- Go for a tuxedo with a slim fit.
This is the style that's all the rage these days: tuxes with a slim fit. It's a far cry from the boxy suits of our forefathers!
7- No vents will help you look slimmer.
Suits with no vents will hug your figure more closely, and thus appear more form-fitting.
Groomsmen
1- Suspenders or braces are cool and unique.
These will help your clothes stay up, much like belts do. They'll also add a touch of vintage class to the outfit.
2- Make sure the groom's' and groomsmen's outfits are compatible.
Remember: the groomsmen should not upstage the groom, sartorially or in any other way. They can be in complementing colours, shades, and designs.
3- Be careful if using themes.
Wearing themed outfits can look cheesy, and possibly make you cringe when you see your wedding photos. Be very careful if you go down this path and be sure to do your homework well in advance.
4- The outfits should be comfortable.
Groomsmen will be wearing their clothes for at least eight hours on end, so this goes without saying.
5- Groomsmen's and bridesmaids' outfits should match.
Small details—like their dress colour being repeated in the groomsmen's pocket squares or ties—are both perfect and subtle.
6- You should be well-groomed.
Clean your face and shave properly, so that you don't embarrass the groom (yes lads, you know who you are!).
7- If you don't have the same outfit, talk to the other groomsmen.
You don't want to clash with them—so discuss things together to make sure everyone is co-ordinated outfit-wise.
Attendees
1- You can wear a suit with two or three pieces.
It's not always necessary for you to wear a matching shirt. Instead, you can grab one that you own already—as long as it fits your jacket and pants.
2- Neutral colours work well, as do mild patterns.
You don't want to be the center of attention with an overly funky outfit, but subtle patterns can be a great way to show off your style.
3- Polish your shoes.
A small but necessary detail. Buff away!
4- Patterns are great for ties, socks, and pocket squares.
A blazer with a far-out design? Maybe not a good choice if you're going to a wedding, but not as a groom. But a tie, pair of socks, or pocket square with that same design? Lovely and stylish.
5- Match your outfit to the weather.
Linen suits and silk shirts are good for summer and autumn weddings. For winter weddings, seek out suit jackets made out of 100% wool.
6- Loafers are an ideal all-around choice.
These are good for all weddings, whether formal, semi-formal, or even cocktail.
7- Make sure colours go well together.
In general, brown shoes go well with all outfits, as do white shirts and black suit jackets. Be more careful with black shoes, however.
Wearing a suit to a funeral
1- White and black are a good option for dress shirts.
Anything that's too pale or too colourful will be in bad taste.
2- While we're on the topic of dress shirts, also make sure that it's pressed and clean.
This way, you'll look properly appropriate for the sombre setting.
3- Your coat or dress coat should be dark as well.
Again, this will also properly fit the sombre, serious setting.
4- Keep jewellery to a minimum.
Your wedding ring is fine, as are any religious jewellery you might have. Other jewellery should be minimal, however.
5- Don't wear pink or other flashy colours, even if they're in paler tones.
Gray, black, white, and maybe navy blue are the traditional funeral colours, after all.
Men's suits: Suit colours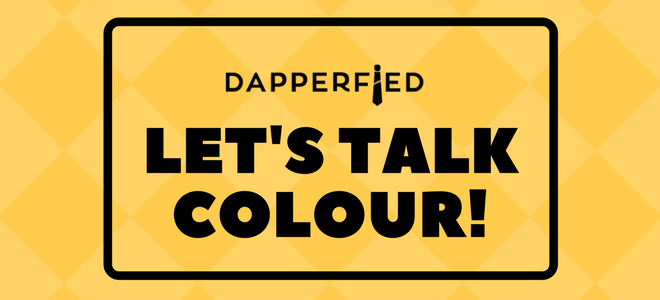 Suits can come in any number of colours; no longer are they only available in charcoal, gray, and black. You can even get them in pastel or white nowadays. Therefore, you now have more possibilities open to you when it comes to wearing the right suit—but also new responsibilities when it comes to choosing the right outfit. Pay careful attention to the tips below.
Black suits
Black suits are excellent for pairing with shirts; together, they will create a nice, dramatic contrast. Moreover, black is a great base colour; it's so neutral that it gets along with most other colours, since they bounce off of it like a reflection.
They're also ideal for very formal events, such as going to the opera or being part of a wedding party (groom, groomsman, best man, etc.).
Grey suits
The great thing about gray suits is that they come in a variety of shades, from palest steel to pebble gray to dark, solid tones. Although they're good for both formal and casual events, gray suits are also an excellent option if you want to mix the formal and the casual together.
In cases like this, mix a plain, pale T-shirt with a gray suit jacket and matching pants.
Navy suits
Like black suits, it's easy to pair navy suits with other colours, owing to their neutral tone. Navy suit jackets look wonderful with pale shirts such as, for example, those in pink, since navy and subtle shades of pink go well together.
In addition to pale shirts, pair your navy suit jacket with formal brown shoes (loafers or brogues fit the bill nicely) and elegant brown belts. Make sure that your belt colour matches that of your shoes, as this will create a nice uniform effect.
White suits
These are perfect for summer (and only summer, unless you're in a place where it doesn't snow). Match them with pale shirts, like those in powder blue and pale pink. They're for fashion more than formality, so don't be afraid to mix it up with fun patterns or interesting designs.
Charcoal suits
Charcoal suits are classic and stylish; they will look good with every type of outfit, particularly the more formal ones. It's for this reason that they're ideal for going to work, as well as more sombre events like funerals.
Feel free to wear them with anything; if they fit properly—and are of a suitably high quality—they'll look great with everything.
Tan/khaki suits
Khaki suits are ideal for summer and spring because of their pale tones; they'll be exceptionally stylish if you wear them for daytime events. They look spectacular when you add the right accessories (shoes, belt, cufflinks).
Another option is to wear these colour suits with button-down shirts in white, blue, or pink, or ties in navy and in patterns. That being said, tan and khaki might look a bit informal during evening events, however, so watch out for that.
Light blue suits
Light blue suits are a great choice for warmer weather in spring and summer. They will grab the attention of others, yet still remain classic and refined, adding a touch of youthful flavour to an otherwise timeless outfit.
In particular, blue linen suits look great, especially if you pair them up with white seersucker shirts.
Other colours
Suits in other colours are usually good for more casual occasions, as they might be too colourful for traditional formal wear. If you're not sure what the dress count of a given event will be like, don't hesitate to ask; your hosts can enlighten you.
Finally, note that darker colours, in general, are ideal for the colder months, whereas paler colours like yellow and light green are a good choice for spring and summer.
Types of suit designs and patterns
Pinstripe
Pinstripes are a great way of adding a little colour and flavour to your outfit, thanks to the fact that it's noticeable yet subtle. Pinstripe suits in black or navy look amazing both for formal events and for office settings. By wearing such a suit, you will be able to remain stylish, while still retaining a sort of "classic" look.
When you're wearing them, pair them with simple clothes, so as not to take away from the exciting pattern. Brown boots and simple button-down shirts (particularly white ones) look terrific when teamed with a pinstripe suit.
Plain
Plain patterns will fit you well in every circumstance, so don't forget that they exist. You can wear them when you need to dress formal, semi-formal, black tie, or anything in between, including causal events. Go for classic tones like navy blue and charcoal gray.
Checked
Checked patterns are a great choice for both formal and casual occasions. Go for more subdued colours for classy events, and brighter styles are better for events where you have more leeway with your style.
Also remember that the checked category includes multiple sub-styles: argyle, plaid, tartan, and gingham, among others.
Tweed
Tweed is a heavy fabric, made from rougher strains of wool. Because of its weight, tweed is good when you need to wear a suit during wintertime, or if you live in a colder climate.
So, don't go wearing a tweed suit during the summer. You should also be careful during spring and fall; make sure the temperature is below a certain point before you don a tweed suit.
Other
Other types of patterns include tropicals and florals (ideal for workplaces where creativity and individual style are encouraged), plaid (for a classic, yet trendy, look), and hound's-tooth (wear it when you want to start incorporating your own personal style into workplace attire).
Different types of suit cuts
The American cut, also known as the German cut, has larger shoulders, and is cut more broadly across the chest. They tend to be single-breasted, and to be paired with flat-front pants. Because of their padding and size, they are good for men with broader frames. However, their broadness means they add a few pounds visually to a heavier man.
The European cut has sharp shoulders, and fits more closely around the body. They are shorter, and the armholes are tighter and higher. They look great on thinner and average-sized men. However, on broader men, they might look like they're too tight.
The English cut has shorter sleeves than other types, as well as shoulders that are softer. It is ideal for men who have either average or athletic builds; this is because it contours the shape of the body, with emphasis on the chest. It is also great for tall people. It might not look as good on thin or shorter men, however, since it might emphasize their height or musculature.
Suit colour and pattern combinations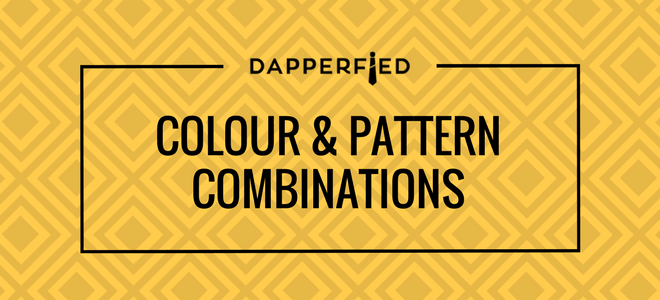 Matching your shirts, suits, ties, and shoes together properly can have some amazing results, but you have to know what you're doing. If not, you can risk looking even worse than you did before. Thus, it's only natural that you might seek a little help getting there. Here are 20 points to consider for perfect combinations.
1- Tailoring is key; it will always make you look great.
2- Match your tie with your clothes, and not vice versa. Your tie is an accessory, not the center piece.
3- Don't wear too many patterns; your outfit will become busy and confusing.
4- Go for traditional patterns, like ginghams and checks.
5- If you're wearing patterns, stick to navy, gray, and black suits—traditional colours, for traditional patterns.
6- Classic white shirts are also an option. They are clean, crisp, and suitably bright.
7- White shirts also look great with literally any kind of tie.
8- Match different shades of the same colour, like a dark green tie with a light green shirt.
9- Use contrasting colours to create dimension and strength.
10- Knitted and textured ties will add a pop of originality to your outfit.
11 – Be careful when matching complementary colours: they shouldn't be too saturated.
12- That said, knitted ties in colours like grass-green and cherry-red are timeless options.
13- Tan suits look good with white shirts.
14- In that case, also pair them with blue tones for accessories, like blue ties and pocket squares.
15- If you're wearing a blue shirt, you can wear ties with patterns in dark gray or dark green.
16- If you're mixing with powder pink outfits, you can combine them with proud purple and vibrant violet.
17- Pink shirts also look excellent with navy suits.
18- They say that your socks and shoes must match. Well, this really depends on the context. Sometimes, it's nice to add some flair with interesting socks.
19- Make sure your necktie goes down to your waist level.
20- It is also said that you should match your tie to the thickness of your collar. This isn't always the case.
Men's Pastel suits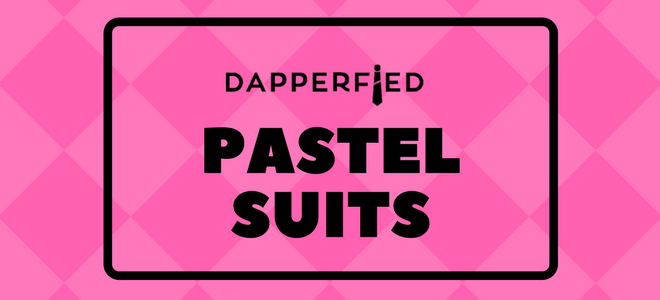 Pastel suits are those that come in paler colours, like pale blue, pink, and turquoise. They're great for costume parties and 80s shindigs, but obviously those weren't the droids you were looking for when you came looking for this article.
Therefore, you can wear pastel suits in the summertime, since, in general, warmer weather equals brighter colours. They're also a good option when you're wearing otherwise neutral clothes, since they can enhance your style while still remaining within the parameters of acceptable fashion.
The pros are that they are unique and interesting. They will be distinct, unique pieces of your outfit that you will be happy to wear each and every time. No matter which event you go to, people will remember that you wore a pastel suit.
The downside is that no matter which event you go to, people will remember that you wore a pastel suit. If you don't find one that's in the right style or colour—or if you wear the perfect one to the wrong event, such as one that is strictly black tie—people will be iffy about your style choices, and may even talk about it behind your back.
Understanding men's slim suits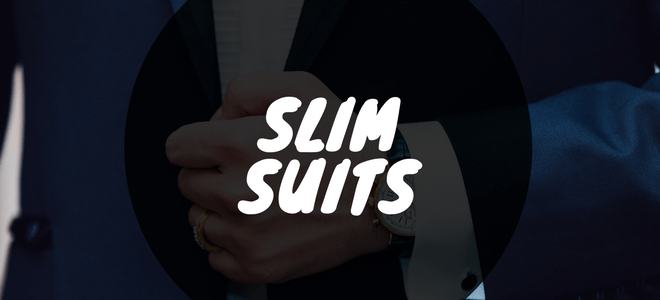 1- Find the right size.
A suit that's properly sized is perfect for every man, and especially so for thinner men.
2- Avoid pinstripes.
These will only emphasize the bad parts of your figure, rather than the good ones.
3- Your jacket should fall to your hips.
This will help make you look taller.
4- Get a belt that's not too wide or too narrow.
If it's the wrong size, your belt will make you look shorter, rather than taller.
5- Don't be afraid of shoulder pads.
Shoulder pads can help emphasize your shoulders (naturally), and make you look strong and broad-shouldered.
6- For pants, go for straight legs.
These will help you create a long, lean shape that makes you look more impressive.
7- Have fun with patterns.
Patterns can be a fun way of adding unique personality to your outfit. Go for plaid ties, or pocket squares with paisley designs.
8- Avoid pleating.
Pleating will make your figure look lumpy and uneven, rather than smooth and streamlined.
9- Skinny ties are an option.
Skinny ties can be a good choice for slim suits because they will be parallel with your slim figure.
10- Lighter colours are always fun.
Colours like pale pink, powder blue, and sunshine yellow are good colours, whether as accents or main colours, for slim suits.
Understanding men's short suits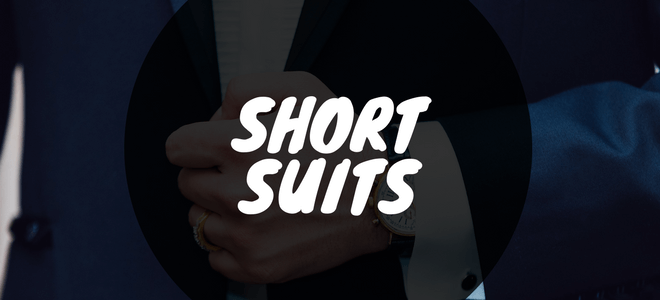 A "Short suit" is the term used for when people wear shorts with their suit jackets. You might not have heard of this fashion trend, but it's been gaining popularity in recent years. And, it goes without saying, it will help keep you cool in warmest summertime.
1- Make sure it's hot enough outside.
If the weather is even a bit chilly, pants are the way to go.
2- Your suit and shorts must match.
Since this is a new trend, you might not find short suits at your local tailor's. In that case, look for shorts of a similar colour and cut to your suit jacket.
3- Check if it's appropriate attire for work.
A short suit will be accepted at some workplaces, but not all. Consult with your boss before wearing one to work for the first time.
4- Go for the right fit.
The proper fit can work wonders for your outfit. Don't neglect this important aspect of your style. In particular, slim cuts look well with short suits.
5- Simplicity is perfect.
You'll already be wowing your coworkers with your shorts, so you don't need to jazz your outfit up with funky patterns and interesting shades. Thus, you might want to stay away from bells and whistles.
The importance of having a good tailor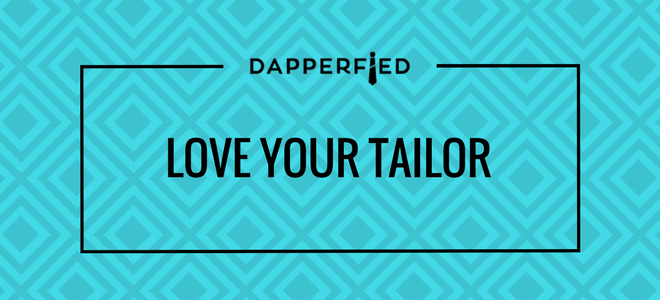 Having a tailor you can trust is incredibly important. These skilled professionals will help take your measurements, offer you a sweet selection of outfits, and alter your clothes if you're refitting them for different purposes, or if you've lost weight.
Thus, they are an indispensable resource if you're not simply restricting yourself to off-the-rack clothing. Tailors can recommend the kinds of outfits you should be wearing, and will point you in the right direction when you're looking to find such pieces.
Moreover, they're likely to be more familiar with the different forms of dress (formal, semi-formal, white tie, etc.) than you are, so they can definitely help you in that department. For all of these reasons, find yourself a good tailor today—and be sure to treat them with kindness and friendship. They're generally kind people who will be happy to help you with all your sartorial needs.
What can you expect the first time you're going to a tailor? Well, you can expect to introduce yourselves, and to make some small talk. Next, the tailor might ask you what kind of outfits you've been looking for, so be sure to have ideas in mind before you leave.
They might then take your measurements; be patient and still while they're doing their work, and talk with them if they converse with you during the task. Alternately, you can supply your measurements yourself, if you have them. Then, he or she will help you find the clothes you're searching for.
Be specific in your criteria, but not so specific that they won't be able to find anything from their stock of clothing. From your tailor, you can also order clothes that are bespoke (custom-made) or made-to-measure (in which you mix and match pieces to create the outfit that's perfect for you).
Treat your Tailor right: A few tips.
1- Find a good tailor.
Look at online reviews, both to find a tailor in your area and to find a good tailor in your area. You need to find a tailor who's the perfect fit for you!
2- Set aside a good chunk of time.
Going to the tailor—having a good chat, getting your measurements taken, perusing the merchandise—can take a while, so make sure you've set aside a sizable chunk of time for this purpose.
3- Be ready to make small talk with your tailor.
Chances are, you'll always be going to the same tailor, so it's best to befriend them. Be kind to them; they're doing you a big service.
4- Don't rush your tailor.
Quality work takes time. Don't stress them out by asking them about your alterations if a reasonable amount of time hasn't yet passed.
5- Ask them how they can help you.
They might have some suggestions of outfits or stores for you; after all, once you've been with them for a while, they have an idea of your style choices and ideas.
6- Don't be afraid to consult them on sartorial issues.
Should you get your blazer refitted? Do you need to get a new size of pants because you've lost a little weight? Ask your tailor for help; they're definitely in the right position to aid you.
7- Ask for recommendations based on your body type.
Your tailor can suggest clothes and pieces that would look great on your body, and point you in the right direction. Don't forget about the valuable resource offered by their wealth of knowledge.
How to choose a suit for your body type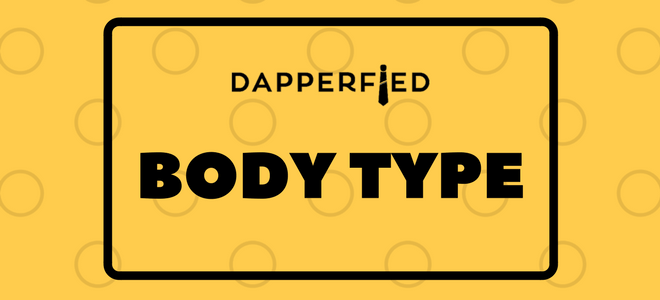 As you'd expect, not all suits look the same on everyone. There are different types of suits for men's body types that work better than others. Here are a few tips to help you choose your next suit well.
Suits for short men: Ideas to keep in mind.
1- "Vertically challenged?" Tapered pants are your best friend.
2- Similarly, you can let a bit of shirt cuff stick out from underneath your jacket.
3- Slimmer lapels will help you look taller.
4- Ditto diagonal peak lapels, which will also add some "horizontal heft."
Suits for tall men: These tips are for you.
5- If you're tall, go for trousers with clean breaks on your shoes.
6- Jackets should be longer and fall lower on your leg line.
7- Avoid tick pockets (which are above the right hip pocket), as they will clutter up your tall frame.
8- Separates will help you make the most out of your wardrobe as well as break up your figure so that it looks proportional.
9- Go for appropriately long sleeves.
For the skinny gents in our midst: Suiting tips for skinny men.
10- If you're skinny, then add weight to your shape with fun patterns.
11- Pants with pleats are also an option, as are bright base colours for blazers and shirts.
12- Double-breasted jackets will help add some strength to your figure.
Suiting ideas for larger men
13- If you're chubby, go for patterns on a smaller social—rather than, say, big checks. Narrow pinstripes, for instance, are a good choice.
14- Jackets with two buttons (not three) will look great.
15- Lighter fabrics will help you look sleek; consider linen, cotton, and hopsack.
How to wear a hat with your suit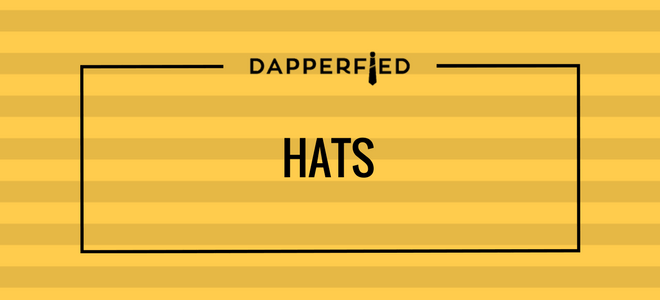 There are several types of classic hats that go well with suits: homburgs, bowlers, trilbies, and fedoras (think Indiana Jones). You can wear a hat during more formal events, such as weddings and fancy galas. The more formal your outfit is, the more formal your hat will be as well.
Wear thicker brims if you have more clothes on; the thickness will match. You can also make the brim wide in that situation.
With regard to etiquette, wear your hat when you're outside, but you should take it off when you're inside (unless you're in a mall, a hotel, etc.) Hold it at waist level when you're not wearing it, with both hands.
Don't give it to the coat check person when you're in restaurants or at the opera.
Find Hats To Pair With Your Suits Here
How to buy a suit: Buying a suit for the modern gent

Off the rack
Ready-to-wear refers to suits that can be purchased right off the rack. You simply buy it, bring it home, clean it, and then—when the occasion presents itself—you wear it. Simple as that. For obvious reasons, off-the-rack, ready-to-wear suits are the cheapest of the three categories; you can save quite a bit of money.
However, if you're dissatisfied with how it looks or fits, you can have many of these suits tailored and still save money when compared to a made-to-measure suit.
Made to measure
Made-to-measure suits are similar to bespoke suits, but more limited. Rather than choosing each specific piece from their imagination—or whatever the tailor is capable of doing—the future owner chooses pieces and designs from among a selection of styles that's available to them.
Although the creativity is limited in this case, the quality remains high, and the suit is still tailored to your specific measurements.
Bespoke
In a bespoke suit, the owner chooses every part of the suit, including not only the style and the materials, but also the lining, the buttons, the vents, and countless others.
Once the future owner has chosen what kind of style ideas and so forth they would like, a tailor makes the suit with their measurements in mind, with the result that the suit fits the future owner incredibly well.
Although bespoke suits are significantly more expensive, the incredibly high quality is definitely worth the price.
How to Buy a suit online
First, Why buy a suit online?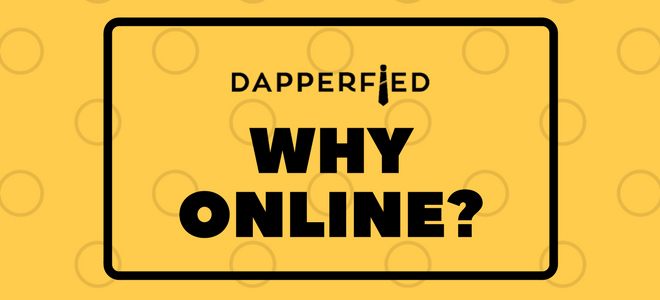 Here are 10 convincing reason to buy your next suit online.
1- There's more choice.
This way, you can choose those specific pieces that you're looking for—rather than simply settling for what's available at the time, as might be the case with a brick-and-mortar store.
2- Sales last longer in the online world.
It's not super-uncommon to find Christmas sales lasting until the end of January, after all. Good luck finding that kind of discount in an online store.
3- Speaking of discounts, they're easier to find.
Sometimes, all you need to do is run the name of the store, plus the word discount, through Google. You can find helpful codes and promotions offered by other users.
4- You can look at reviews for advice and inspiration.
They'll counsel you whether or not to buy a certain item, and indicate which brands you should absolutely stay away from. In a brick-and-mortar store, you're running a little blind when buying clothes.
5- You can find the right clothes.
As we said before, you can choose which clothes you're looking for—which means that you can fill out those areas of your wardrobe which are deficient. So, if you're missing, say, a proper bow tie, then you can easily find one online, whereas this might be more difficult in a brick-and-mortar store.
6- You can check your sizing and compare to the chart.
This isn't necessarily as easy in a traditional store, since often sizes are listed with names (small, large, etc.), rather than the measurements. But in an online store, you can just compare to the helpful sizing chart.
7- There are no pushy salespeople.
This sounds trivial, but it's definitely true: annoying salespeople are one of the worst parts about shopping in person.
8- You can save time.
If you're filling up on routine pieces and are already familiar with your measurements, you can save so much time.
9- You can find products that are better for the environment.
Online, you can easily find niche web stores where suits and shirts are made out of sustainable, partially recycled materials, in countries that don't employ underpaid labour.
10- You can get items delivered right to your door.
No more struggling with too many small plastic bags, broken handles, and stuffing your car with your new purchases. With online shopping, you simply receive your purchases at your doorstep.
Men's suits: 10 tips on buying a suit online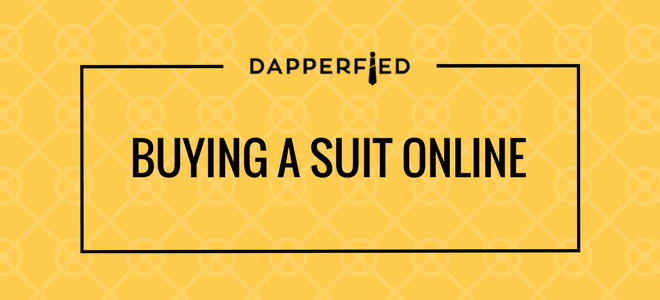 1- Keep a record of brands you've purchased from before.
If you do this, you'll instantly know whether or not you should continue buying from that company. You can keep a record of bad experiences you've had, too.
2- Know your measurements, and keep them up to date.
Buying clothes in the proper size is particularly important when buying online. Also, a tip: if something doesn't fit quite right, you can often return it.
3- Check the sizing charts.
Similar to tip #2, this tip will help you get the right size every time, so you can have a better fit.
4- Keep an eye out for good brands.
What do the online reviews say? What do the blogs suggest? Watch out for all these things, and that way you'll have a better idea of which brands you should be purchasing.
5- You can order custom clothes online, too.
These can be tailored for your specific figure, which ensures a better fit. Getting fabrics and designs you like is always a plus, too.
6- Be careful with your spending.
Online shopping is supposed to be useful and helpful, not addictive. Make sure you don't go overboard.
7- You can also buy clothes that are a bit bigger than your real size.
Although not recommended, depending on your circumstances (if you absolutely had to choose) it would be better to buy clothes that are too big than too small, since you can get them tailored. You can even learn some DIY tailoring techniques yourself to save money.
8- Realize that a given piece won't always be as it appears on the site.
In real life, clothing doesn't look the same as it does on a screen. And that's okay. Just take specific care before you purchase an item.
9- Research materials and fabrics.
You can choose those textures that you specifically prefer, like the lightweight nature of linen or the warmth of wool.
10- Have a look at the return policies.
Purchasing clothes you can return is a definite plus, since online you never truly know how anything will fit.
When you're looking to buy your next suit, we highly recommend this spot. It is backed by one of the biggest retail names in the world and offers quality suits (great brands like Calvin Klein, Zegna, Ralph Lauren & Tommy Hilfiger) at some seriously good prices. Just be sure to read the customer reviews on the product pages to help you get an idea for the suit and its fit.
How to measure yourself when buying a suit online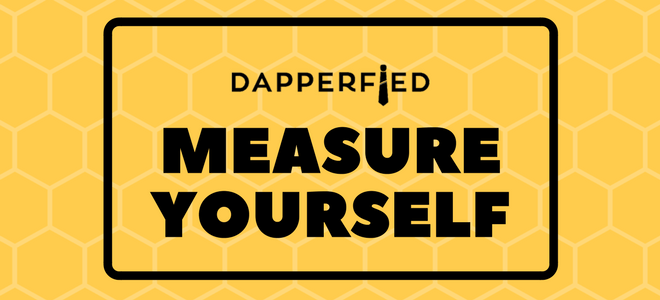 Got a tape measure and a buddy? If so, good; you're ready to get your measurements in.
For your chest, stand normally, and have your buddy measure the thickest part of your chest.
For sleeves, measure the space from shoulder tip to cusp of your palm.
For your waist, wrap the tape measure around your stomach, where your belly button is.
For the inseam, have your buddy measure you from the crotch to the place where you want your pants to end. Make sure you're not wearing shoes.
For your neck, wrap the measure around you, about an inch beneath your Adam's apple.
how to care for your suit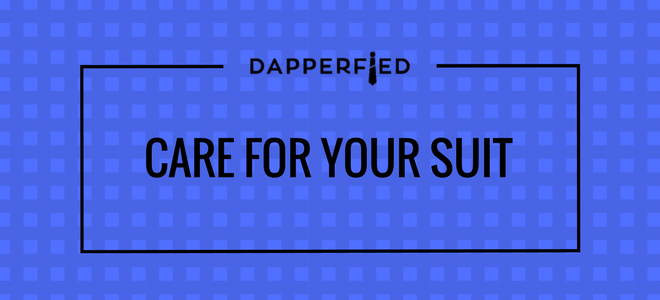 1- Don't use bags made out of plastic or other synthetic materials.
Instead, use cloth bags.
2- Remove stains with stain remover.
It's an easy, efficient way of getting rid of stains…
3- …and besides, you can't dry-clean your clothes too often.
If you do, they'll lose their shape and structure. Once a season is plenty.
4- Make sure the hangers are well-padded.
This will protect the shoulder pads.
5- Get rid of anything inside the pockets.
You don't want whatever might be hidden inside to stain the inside of your lovely dress pants.
6- Air your clothes out before storing them.
This doesn't need to take long, but it's a crucial step.
7- Pass a lint roller over your clothes.
This is an easy way of keeping them in tip-top shape.
8- Make the most of your suit brush.
In other words, brush your suit after you've worn it.
9- Steam your suit, rather than ironing it.
Ironing formal wear can damage the fibers.
10- Don't separate jackets and pants.
This way, they will wear out at the same rate.
What is an unstructured suit?
This is a suit in which there is a lack of features that create more "structure"—and, conversely, more rigidity. Unstructured suits have thinner (or no) linings, little or no shoulder padding, and have thinner, lighter chest canvases (i.e., a canvas piece in the chest area that provides a nice, smooth surface).
Unstructured suits weigh less, with the consequent effect that they give the wearers more range of motion. They're also more breathable, as well as more versatile. You can fold and pack them away more easily as well.
wearing your suit with sneakers
Wearing suits and sneakers together is a great choice for places and events where you have more flexibility in terms of your personal style. For example, they're a good choice for more liberal workplaces, and for events like museum openings or going to the theater.
They're a good choice, in other words, for events where the informal and the formal combine.
1- Sneakers will help make you look cool and relaxed.
They're a great way of adding some casual, fun style to an otherwise serious outfit.
2- Know your audience.
There's always a time and a place—and that fancy conference might not necessarily be it. Ideal places to wear suits with sneakers include more casual workplaces, among others.
3- Own a statement pair.
High-quality white sneakers always make their mark. Also consider purchasing a pair with a fun, distinctive pattern that will match with your own unique style.
4- Make sure they match your socks.
A good rule of thumb is that sneakers and socks should be the same colour. But if you're wearing a suit, your socks generally shouldn't show anyway.
5- Make everything else more polished.
Groom properly, iron out your clothes, and run a lint roller over your blazer. This will help your sneakers shine.
6- Cropped dress pants go well with sneakers.
You can let the tops of your sneakers show, revealing them in all their glory.
7-High-end shoes make for great style.
Coach and Lanvin make some excellent sneakers, as does Nine West. Use these sneaks to show off your luxurious side.
8- Don't wear them with other statement accessories.
You don't want to crowd out how amazing your sneakers look; they must be cool enough to stand on their own. So, stay away from funky cufflinks or ties with bigger designs.
9- Tennis shoes can also be a stylish fashion choice.
Nike and Adidas make great tennis shoes for this purpose; these brands are well-known for a reason.
10- Ask for a second opinion.
Unsure over whether or not you should be wearing sneakers at work? Consult your boss, or perhaps a friend who's more fashionably minded than you. They should be able to enlighten you.
wearing your suit with a polo shirt, t-shirt or turtle neck
1- Look for polos with interesting designs.
They will fit together with the otherwise traditional style of the rest of your suit.
2- Alternately, go for polos with bright, colours.
Plum purple? Yes, please. Hot pink? Sign me up. Bright colours will look great with a suit in gray or navy blue.
3- Choose your shirt carefully.
If it's fall, you'll go for a sweater or polo, not a T-shirt. Similarly, turtlenecks are not appropriate for summer.
4- Make sure your outfit is put together.
Any threads left hanging, any small rips will threaten the integrity of your outfit—and make your choice to wear a polo shirt look back.
5- Get a polo shirt with a custom fit.
These will help you look spectacular. Enough said.
6- But in more casual environments, a polo with a regular fit is a good choice.
You'll look both formal and casual at the same time, which is exactly the kind of look you're trying to achieve by wearing a polo and a suit together in the first place.
7- You can also get a tailored suit, and leave your polo off-the-rack.
Again, this will help make you look casual and classy—and all-around sophisticated—at the same time.
8- Know when to wear this outfit.
At sports games is the obvious choice, but it will also be great at meet-ups with friends, casual parties, and intimate get-togethers.
9- Keep versatility in mind.
You can wear a suit with any kind or colour of shirt, so don't let your options be limited. If you like a shirt—even if it doesn't seem to fit well at first sight—don't hesitate to give it a whirl. You might be surprised by the results.
10- Choose the right jacket and pants.
This can easily make your outfit into something more formal—yes, even with a polo. And on that note…
11- Choose the right shirt.
It must be of suitably high quality to fit in with your pants. Look for durable fabrics and solid construction.
12- Don't be strangled by your turtleneck.
Naturally, you should try your sweater on before you buy it. You don't want to look like a snake is just chilling around your neck, after all. Go for a looser neck style instead.
13- Slim fit polos are perfect for experimenting with style.
They're good choices for events where you have more flexibility with your style, and have the opportunity to try out new styles.
14- Original polo fits have a tighter fit than regular fit.
As a result, they're a good choice for men with well-developed muscles. Wear your strength proudly!
15- Altogether, it's a perfect option for summer.
Team them with a braided belt and deck shoes for the perfect summer look.
Men's suit style: Socks or no socks?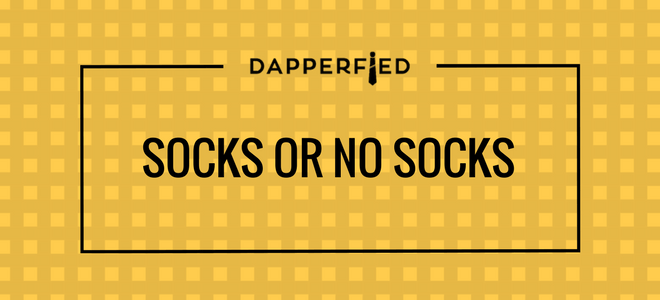 Wearing no socks is also ideal for less formal environments, particularly when it's hot outside. Your feet and toesies will feel nice and free! But more to the point, here are five helpful tips.
1- Look to the weather outside.
Obviously, when it's colder, you'll want to be wearing socks. They'll help your feet stay nice and toasty.
2- For weddings, black-tie events, and formal gatherings, socks are an absolute yes.
Styles in neutral tones (black, white, charcoal) or rich colours (bottle green, navy blue, burgundy) will always do you a solid and help you look good.
3- But they're not always necessary in casual outings.
If it's a casual event, and it's hot outside, you can ditch the socks—no one is supposed to see them underneath your blazer, anyway.
4- If you're not wearing a tie, then you might not need socks.
Again, this is perfect for a casual environment. If you're going to a formal event, even if a tie isn't necessary, you should still wear socks.
5- In general, become familiar with a given place before you risk it.
This applies to work environments, for example. Don't risk going "sock commando" until you're sure it's going to be all right.
Suits for men: Belt or no belt?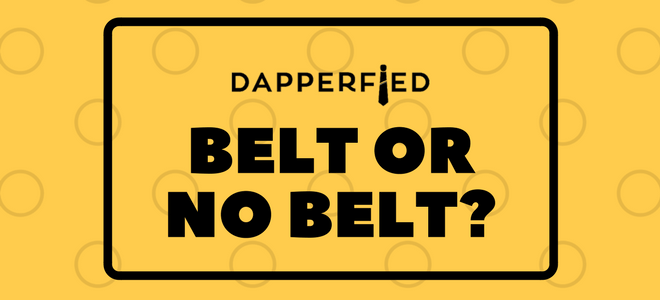 Wearing no belt with your suit can be a great choice if the environment isn't overly formal. Truly, black-tie occasions aren't the best place to experiment with this more relaxed style. Here are five helpful tips.
1- If you're wearing suspenders or braces, don't wear a belt.
All three of these items serve the same function: to hold your clothes up. Therefore, you don't need to wear two at the same time (and, thankfully, certainly not three).
2- Watch out for the weather outside.
Wearing a belt can make you feel warmer and hotter, so many men will avoid them during summertime.
3- Belts can enhance how your pants fit.
Thus, they can provide a nice little boost, so—if you've been struggling in that area—you can definitely consider wearing a belt.
4- However, belts will also create more rigidity within your outfit.
Appropriate for a work environment? You bet. But for a semi-casual environment—and especially if you prefer having more freedom of movement—you might want to refrain from wearing one.
5- On the same note: what is the environment like?
If it's a formal event, you should probably wear one. If the event is semi-formal or more relaxed (which is the case for many workplaces), you'll often be okay without one.
Tie or no tie with a suit?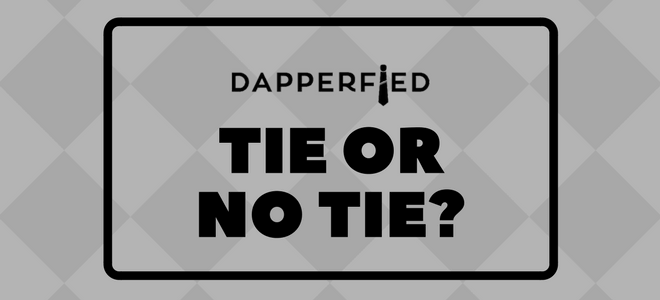 Wearing no tie with your suit is, again, less formal than black-tie, as well as in some formal environments. But when you can engage in it, it's a great way of showing off your shirt and your jacket—and your excellent style. Here are five things to keep in mind.
1- Wear a great suit jacket and shirt.
This way, you can show on what you've got—not what you're missing.
2- You can experiment with them, too.
Never fear colourful designs on your jacket or shirt. They will take the place of tie designs with ease.
3- Watch out for your collar.
Your collar will frame your face in the absence of a tie. Therefore, go for a collar with a solid shape and enough apparent strength.
4- Hide your undershirt.
It's easier to let this show than you'd think. A V-neck undershirt will hide better than other types.
5- Concentrate on accessories.
Accessories look great, whether or not you're missing a tie, and will fill up the gap. And speaking of accessories, that's our next topic, so let's dive right into that.
Men's Suit accessories
Suspenders
1- Clip-ons are fine but buttons are better.
Suspenders with buttons are where it's at.
2- Adjust the length properly.
Again, achieving the perfect fit is vital.
3- Make sure there's leeway in the fit.
This will make it easier for you to move around while you're wearing them.
4- Cover them with a jacket or cummerbund.
Remember: they shouldn't be visible unless you take your jacket off.
5-Belts or suspenders, not both.
They both the same function, so wearing the two at the same time is just overkill.
Watches
1- Conservative designs are timeless classics.
These watches can be well-adapted to any environment.
2- Coordinate your colours.
To wit: watches that are silver in colour go well with silver-coloured necklaces, rings (not wedding rings), and cufflinks.
3- Find the right size.
Watches that fit properly won't feel too loose or too tight.
4- The face should be clear.
This way, you can easily read it and know the time.
5- Similarly, avoid an overabundance of bells and whistles.
If a watch has too many gadgets and complications, it could look unprofessional and be less user-friendly, all at the same time.
Tie bars
1- Tie bars must be worn between the third and fourth buttons.
If you wear them anywhere else, it will create a strange effect that doesn't look jell with the rest of your outfit.
2- Silver is a classic material.
Yes, there's nothing wrong with steel, hematite, or synthetic materials—but really, there are few materials as classic and timeless as silver.
3- Don't wear them with a waistcoat or cardigan.
Tie bars are best worn with more formal outfits, such as tuxedos, suits, and other examples of formal wear.
4- They must be perpendicular to (i.e., form right angles with) your tie.
Otherwise, their placement will look sloppy and uneven—and this won't look good on you.
5- They must not be wider than your tie.
In this case, they will just hang out over your tie, and that will look awkward, to the point where they will distract from the rest of your outfit.
Cufflinks
1- Cufflinks are meant to be worn with a jacket.
As expected, you see them on the cuffs. For this reason, don't simultaneously wear cufflinks on the shirt below your jacket.
2- But you can wear your 'links with your dress shirts.
They're compatible with "French cuffs," which is the style of dress shirt meant specifically for cufflinks. This is acceptable to wear in a work environment.
3- Formal cufflinks are straight and geometric in shape.
Rounded, curved designs tend to be more casual.
4- Match your metals.
For example, silver cufflinks will do well with silver jewellery (wedding rings excepted) and silver aglets (the tips on the ends of your shoelaces).
5- Neutral shades look great with cufflinks.
This way, you can wear more fashionable, stylish cufflinks (for example, those with interesting patterns or designs, or those in the shape of race cars).
Belts
1- Belts in versatile colours can suit you on every occasion.
Brown and black belts are classic and standard. But don't shy from gray belts, either; between pale, middling, and dark gray, there's surely a gray to match many styles.
2- Look for belts that are more minimalistic.
These might feature clean, smooth designs without a lot of ornamentation. Such belts can be used to create a more minimalistic kind of style.
3- On the other hand, if you wear a statement belt, look for an outfit that is more simple in tone.
Simpler clothes work well with statement accessories, such as belts in interesting colours and with vibrant patterns.
4- Find a belt that has the same colour as your other accessories.
These pieces will jive well together, creating a nice, complementary look.
5- Vintage belts are always an option.
Whether they have large buckles and intricate detailing or are constructed from premium materials, going vintage gives you a lot of leeway in terms of belt styles, allowing you to experiment while retaining a certain level of formality.
Ties
1- Make sure your tie is long enough.
The ideal tie should reach to the level of your belt, not above. It won't look good if it's too short.
2- Choose the right knot.
Tie knots are chosen with regard to the shirt you choose. Widespread collars are ideal with triangular knots; these are also good with silken ties. Straight-point collars, on the other hand, team well with narrow knots and long extensions.
3- You can wear it with an open shirt (no buttons).
Knot your tie loosely in this case, and put the extra material in the shirt.
4- Watch out for width.
Skinny ties look better on shorter men, as well as slender ones. Broad ties look best on taller, heavier men.
5- Your knot can be a little asymmetrical.
That is to say, don't be afraid to wear it a bit off center. It will look classy, yet modern at the same time.
Pocket squares
1- Make sure you know how to fold them properly.
We even talk about that in this very article. Read below.
2- Don't be matchy-matchy.
A great, subtle idea: make a detail in either your pocket square or tie match the design in the other piece. Thus, if you have a design featuring navy blue in your pocket square, you can wear a navy blue tie. However, if both pocket square and tie have the same pattern, then it will create a matchy-matchy effect which is cheesy at best and unfashionable at worst.
3- Keep it clean.
Make sure you don't take it out of your pocket, and clean it carefully before wearing it. And on the same note…
4- Don't actually use it.
Pocket squares are there to make your outfit look good—not to wipe your nose with. Carry other, less formal handkerchiefs for that purpose.
5- Go for pocket squares that look good when folded up, particularly at the seams.
Some models will just appear cheap, like they haven't been sewn together properly. Stay away from these models at all costs.
Socks
1- Match your socks to your pants.
In formal wear, socks and pants should always be the same colour.
2- Your socks should be long enough to look good.
You won't be lifting up your pants, of course—but either way, your socks should go at least up to your calves. Up to the knees is a good option, too.
3- Make sure your socks are at the same level of dress as the rest of your outfit.
So: semi-formal outfit = semi-formal socks. Ditto for formal wear, black tie, and even white tie. The socks should always complement your pants, shirt, and suit.
4- Purchase socks in high-quality materials: wool, cashmere, silk….
The list goes on. Also look for materials that are not composites (i.e., 100% cotton or wool, rather than a blend.)
5- Look for rich and neutral colours.
Black, gray, and charcoal are traditional choices. Also ideal are dark blues (not necessarily navy), dark reds, maroons, and dark greens.
Cravats
1- Soft cravats are perfect.
They will feel nice and light against your neck, and won't pick against your skin.
2- Cravats are part of a more casual style.
Therefore, you may want to avoid them for formal work attire.
3- Go for interesting patterns and colours.
You can use cravats to play around with your style a little. Don't be afraid to seek out intricate designs or bright colours like turquoise, purple, sky-blue, or even orange.
4- Cravats are ideal in warmer weather.
As such, they'll look great in both spring and summer.
5- Choose jacquard cravats, rather than woven ones, as the latter will irritate your neck.
No one wants an itchy neck!
Bow ties
1- Your bow tie should match the size of your collar.
Otherwise, the symmetry will be off; you might look a little lop-sided.
2- If you're bigger, you can wear bigger bow ties.
Large and tall men rejoice! Bigger bow ties look fashionable and creative.
3- Understated bow ties are nice and formal.
Overly funky designs = not necessarily a good fit for the office.
4- Bow ties look great with simple outfits.
They already add a pop of colour and funky designs on their own, so matching them with more complex outfits might detract from how cool your bow tie is.
5- Check out second-hand shops.
The bow ties you can find here will often be of vintage style. You can find timeless, classic pieces this way.
Men's suits: Types of shoes to wear with suits
In general, formal shoes go well with suits. Consider anything from brogues to Chelsea boots (technically booties) to derbies. There are also oxfords (great with everything, remember), and saddle shoes, which are black and white with that iconic pattern. All of these shoes are available in gray, brown and black; also remember that brown shoes go well with every colour of suit.
When it comes to materials, leather shoes will go great with suits; look out for higher-quality forms of leather. Suede is a possibility as well.
As for laces, brogues and oxfords have closed lacing; the tabs of the eyelets are on top of the upper layer. Derbies have open laces, with the result that they're less formal than their counterparts.
Formal shoes for suits might have broguing, too. Broguing refers to the perforation made into shoes to decorate them. More intricate broguing generally means that the shoes are of higher quality. Although traditionally found on brogue shoes, they can be used for any kind of formal shoe made out of leather.
As for toes, there are rounded toes (seen in Chelsea and chukka boots), plain toes (a clean and minimalist look), cap toes (horizontal stitching divides the vamp at the top), split toes (a seam wraps around the shoe), and medallion toes (plain toes with broguing).
Men's 3 piece suits: a brief discussion
The typical suits, these involve three pieces: the suit jacket, the pants, and the vest. You generally wear them for all kinds of formal events, except for black tie (there, you'll need a tuxedo). They can be more or less formal, depending on the type; bespoke and made-to-measure tend to be more formal, for obvious reasons.
Ensure that your suit fits properly (take note of your own measurements), and that it flatters your figure. Wear them with pride; keep them clean, tidy and dry-cleaned (once a season only, at the end); and make sure you always look polished and put together.
1- Match your pants and suit jacket; they're sold together.
2- But feel free to get a (matching) shirt from another ensemble.
3- Watch out for comfort: all three pieces should fit comfortably.
4- Make sure your shoe falls right on top of your shoe.
5- The jacket should fit closely around your torso, but without being too tight.
6- The jacket should go past your butt completely, but shouldn't go below your knuckles.
wearing waistcoats on their own, without a suit jacket
Wearing waistcoats on their own, without a jacket, can be great because it allows you both greater comfort and range of motion. If you find a waistcoat that fits great, then you'll find that it's versatile, well-suited to a large number of occasions and event.
You can button or unbutton them at will, which improves their versatility, as does the fact that you can change your pants to dress it up or down, depending on where you're headed.
1- Match your pants and your waistcoat together.
This makes sense because your pants will be sticking out from below your coat. Go for similar colours, cuts and styles.
2- Formal pants can help make your waistcoat look even better.
If you look polished all-around, it will make your entire outfit look more stylish overall.
3- Patterned coats look good with plain pants and shoes.
That way, the coat can serve as a kind of statement piece; your pants or shoes won't take away from it.
4- Don't be OVERLY matchy-matchy.
This effect can often look cheesy or tacky, especially if it's done in work environments.
5- Experiment with materials.
Corduroy and tweed fabrics look great when combined with waistcoats, so feel free to test out what works best for you.
How to fold a pocket square
We suggest wearing pocket squares throughout the article – here's how to make sure it looks great when you have one on.
Place it on a flat surface.
Take one corner and fold it inward; you should get two triangles that overlap.
Fold one side inward again, then repeat on the other side. You're done!
power dressing and making a statement with your suit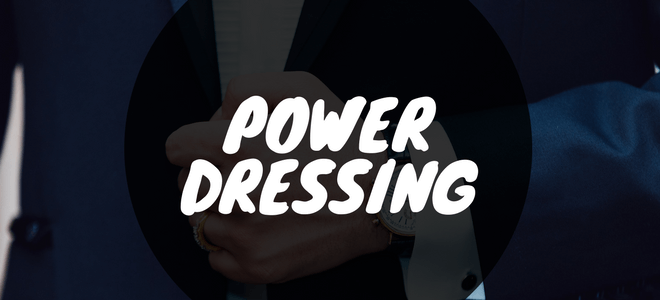 1- A trim waist is ideal in today's world.
Suits and other formal wear tended to be boxier in the past, but these days we're going for a more classic look. They make for great power dressing items, that's for sure.
2- Statement accessories always help you look great.
They make a great way of playing around with your fashion and developing your own sense of style. Go for fun belts, ties (or ascots and cravats), cufflinks, and pocket squares.
3- Look out for slim trousers.
Again, this would be unconventional from within a classic perspective, but today they're all the rage. Slim trousers will go smoothly down your legs, and will hug them closer than their looser counterparts. They'll also contribute to creating a smooth, streamlined look. You can find some really good ones here.
4- Don't be afraid to change the stitching in the jacket.
Take the stitches out of the pockets and vents for a more modern look. You can even take the label out of the left sleeve. Be sure to do this very slowly and carefully.
5- Show only what you want to be seen.
Make sure your legs and ankles aren't showing; socks and pants must be long enough to cover the gap. Similarly, make sure your collar (both for shirt and suit jacket) covers exactly the right amount of skin that you desire.
6- Undershirts are a great choice for those with heavier sweating.
The garment will remove some of the moisture, and will help aerate you better.
7- Feel free to wear the perfect hat.
We talk about hats elsewhere in this article. Finding one that looks great with your outfit will help your style look unique. You can even where different models of hats, depending on the occasion.
8- Your sleeve cuffs should go up roughly a half-inch on your arms.
You can cover more if you want. But if you cover less, the result won't be so much "Wow, his arms look great" as it will be "I didn't realize he had that much hair on his arms."
9- Windsor knots are classical and timeless.
Windsor knots will always look great with your tie; the same can't necessarily be said for other kinds of knots.
10- Know when to unbutton the bottom.
This way, you can easily classify the party into another kind of party entirely—one where you don't need to be quite so serious.
Suits for men: creating a timeless style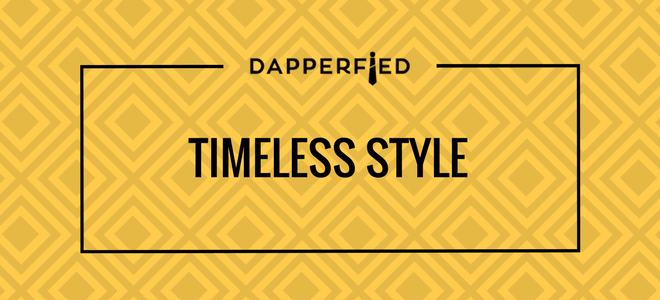 1- The small parts of your suit must fit well, too.
For example, there shouldn't be a gap between your jacket lapels and your shirt collar; this will often make your jacket look like it doesn't fit properly. Similarly, make sure the shoulders are smooth rather than lumpy.
2- Match your shoes and your suit go together.
They don't need to be the same colour, but designs and colours must be complementary. You should go for a similar level of formality as well.
3- Don't come off like you're trendy.
Yes, you can integrate patterns and designs that are in fashion right now into your outfit…but don't do it in such a way that they steal the show. Instead, make such integrations subtle and stylish, not flashy and overdrawn.
4- To match ties and dress shirts, ties should be darker.
Darker ties will complement the shirt nicely, and will create an interesting look.
5- You can get more style options out of dark gray jackets.
You'll have fewer matching possibilities with those in black or light gray. With dark gray, you can mix any colour—including pale blues and pinks.
dressing like James Bond
1- It's in the little details.
Buy (and rock) a great pair of cufflinks; wear a pocket square. It's the small things that count.
2- If you're in doubt, wear block colours.
Block colours—solid, neutral-looking tones like black and gray—will look elegant with any suit or other formal outfit. When in doubt, you can turn to them.
3- Brown shoes are very versatile.
You can wear them in any environment, whether formal, semi-formal, or sometimes even black-tie. Oxfords and loafers will always look great. Don't hesitate to slip on a stylish pair of brogues, either.
4- Gray and black suits are key.
As we said: block colours. They will complement your form, hug your figure, and help the fat (appear to) melt away. You can't forget all those muscle-accentuating properties, either.
5- Bow ties are a neat touch.
Bow ties! They're cute, stylish, and endlessly fashionable. Buy one today; you won't be sorry.
6- Go for excellent fit.
Really, we can't stress this aspect enough. Wearing clothes with an excellent fit is one of the fundamental parts of being stylish. They'll help you feel like you're on top of the world.
7- Don't wear anything too flashy.
Bond is smart enough to know that it's often the illusion one creates, via the subtle details—rather than what's shown explicitly, with smoke and mirrors—that is what makes him look good. So, emulate Bond and go for a more understated look; you won't regret it.
8- Don't follow trends.
You don't need to follow trends when you set the trends. Therefore, you should seek to use those styles which will complement your figure, yet always remain timeless classics. You don't need to do what everyone else is; you're already stylish enough on your own.
9- Wear your tie properly.
Wear the right tie, and wear it properly. Knot it properly; find the right size of tie bar; and make sure that your tie is long enough to reach your waistband.
10- And finally, work out.
Yes, we know this isn't specifically related to dressing, but a good Bond has a good bod. (Dad joke ahoy!) So, go do your cardio, your lifting, your stretching. That way you can really look like Bond.
Wrap up time.
We've said everything we needed to say, so best of luck on your suit buying adventure! We know you can do it. After all, you've already answered that one vital question: do you simply passively want to look great, or do you really want to make excellent efforts to look your absolute best?
If you have any comments to add, anything you feel we've missed and you would like covered better or even something you would like to share with your fellow readers – let us know in the comments section below!