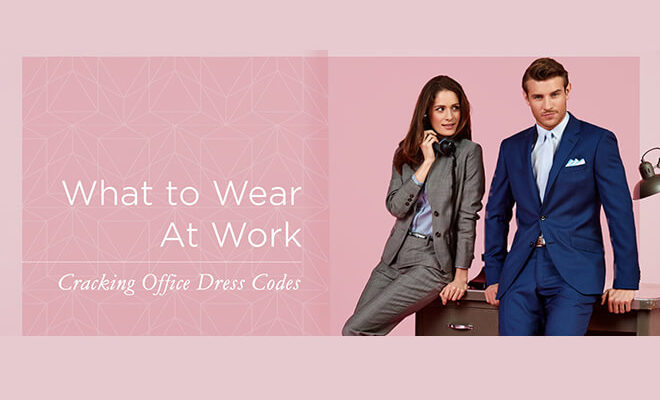 Dapperfied Collaboration Corner
What to Wear at Work: Tips & Ideas from T.M. Lewin.
By
|
Gents, today we have a contribution from our friends at T.M.Lewin. They've produced something that's pretty useful for you (and the special women in your lives) that will help make sure you always look top notch at work.
We've all had that thought, "What the … far from dapper … are they wearing?" Weekends elicit more fun and flexibility with outfits, but a polished style throughout the workweek is essential! The world of office-appropriate attire becomes increasingly complicated as professional environments evolve and become more diverse with the times. The steady rise of digital startups, shared workplaces and hip office environments present a grey area for what to wear and when.
T.M. Lewin is a British brand rooted in the heritage of English style, often seen synonymous with classic smart clothes and stylish workwear for both the modern man and woman. T.M. Lewin has developed a fabulous graphic to help us crack the office dress code, helping us all define and decipher which style aligns best with a particular business environment – from creative positions, to the ones requiring the ever-so-vague business casual, business professional or business formal dress code.
Question no more: "What should I wear on my first day or for my latest interview?" T.M. Lewin has a true range of cuts, fabrics and styles. Feel free to check out their selection of suits fit for any man and any occasion. For the chic and driven woman, don't miss out on their timeless and versatile collection of suits, dresses and beautiful blouses! After all, we all know feeling fashionable and confident allows us to be the best version of ourselves.
What to wear at work: Cracking Office Dress Codes.