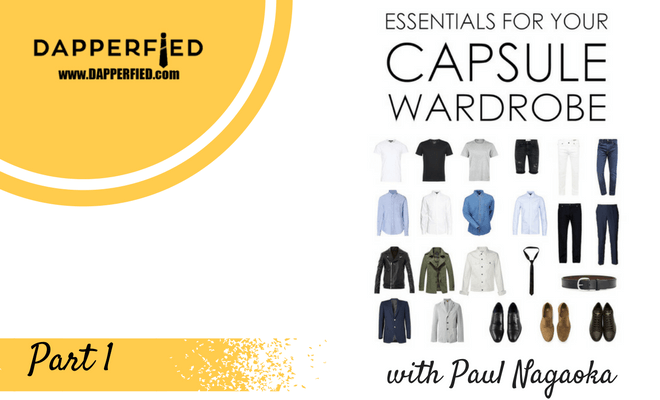 Dapperfied Collaboration Corner
How to Build a Men's Capsule Wardrobe: Part 1
By
|
Gents, today I'd like to introduce you to our friend Paul Nagaoka. Paul is an international model, TV host, actor & entrepreneur and has an exciting series planned for you here at Dapperfied.com. He's a dapper chap and wants to help YOU on your quest for dapperness. Other than his love for style, living a life of simplicity and minimalism frees him to focus on what he loves most- travelling, adventure and finding new reasons to sleep in past noon. Follow him @paulnagaoka to see his latest shenanigans.
Take it away Paul!
SIMPLICITY IS THE ULTIMATE SOPHISTICATION.
– Leonardo Da Vinci
How would you like to make over 450 individual outfits, have your entire wardrobe fit in one large suitcase, and spend less than 5 minutes getting ready every morning? It's possible with the capsule wardrobe. Let me show you how…
An introduction
Coined in the 1970's by Susie Faux, a London boutique owner – the capsule wardrobe is about maximising your minimised wardrobe. The goal is owning fewer clothes of higher quality that you wear more often.
More with less
The fundamental idea of having a capsule wardrobe is to own as few essential items as possible while still being able to create a substantial number of outfits. It consists of many basic and versatile pieces that you can layer upon. This way, you can focus on making the most out of each article of clothing. My own capsule wardrobe consists of 25 pieces that can create over 450 looks!
Spend less on the best
With your capsule wardrobe needing only a few essential pieces of clothing, you can direct more of your budget to investing in quality pieces. Quality goes hand in hand with durability, comfort and an unspoken sophistication. The need for you to replace these items will happen, but not nearly at the frequency of its counterpart (cheap fast fashion).
6 perfect colours
As your capsule wardrobe consists of the "basics," it is important to make sure your pieces are  neutral colours. I live by the rule of having only 6 colours in my capsule wardrobe; black, white, grey, navy, baby blue and olive green. These are timeless colours that never go out of style. They are versatile, interchangeable and compliment one another effortlessly.
Why?
My favourite part of the capsule wardrobe… ease. I no longer have to think about creating an outfit and what to wear, it all just works. And… I look good every time! Remember, fashion trends change, but style is timeless. If you are convinced it is time for you to create your own style through a capsule wardrobe check out my six part YouTube series, "How to Build a Men's Capsule Wardrobe." I will thoroughly guide you step by step on how to do just that. And trust me, once you go capsule, you'll never go back.