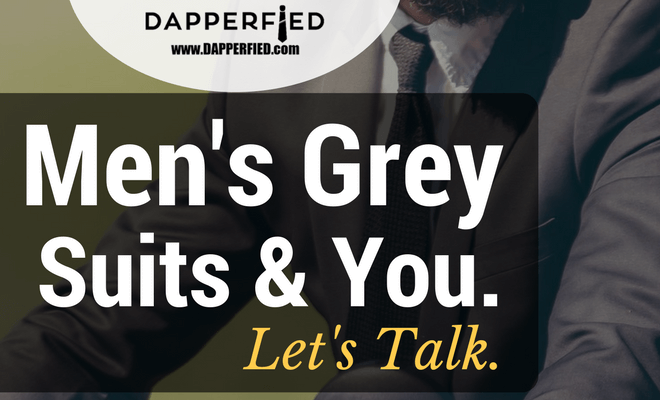 Style
Men's Grey Suits and You. Let's Talk.
By
|
Today gents, we're talking men's grey suits. If you've grown up with a much more traditionalist view of suits, seeing the black-suit-and-black-tie combo as the pinnacle of suit greatness, you might find that when buying suits, your first instinct might be to go with the traditional darker suits – the navys, the blacks or the dark browns.
As such, we'd expect that it might come an unexpected surprise to you that when it comes to the best suit trends of the 21st century, you might want to go a bit less by the book.
Workplaces all around the world are erring more on the side of business casual, leaving the strict traditionalist view of formality behind. In an environment like this, such formality might sometimes even be discouraged or seen as inappropriate for the setting. Here's where the effortless men's grey suit becomes a formidable choice.
Shocked? You're most likely not the only one. Most men have become so  accustomed to the standard of a dark suit being the best pick that to hear that this isn't true might be jarring.
Now, it's not that darker suits are no longer in style or that they don't have their purpose, place and time, but the fact of the matter is that a grey suit can sometimes be more flexible – and, arguably according to some, more eye-catching…but that's a topic for another time. 🙂
Men's grey suits: Versatility.
Men's grey suits are also the smarter choice when it comes to great versatility. A good grey suit is just  as appropriate for a daytime meeting as it is for an evening engagement, once paired with the right shirt and tie.
Knowing how to successfully transition between the two is vital. For instance, ditching the white shirt and donning a black one is a simple but effective step that adheres to most simple evening dress codes.
The men's grey suit: A suit for many occasions.
A navy suit (depending on the cut and style) can say business and formality, and as such, would be a little harder to lighten up. As mentioned, the remarkable flexibility of the grey suit makes it a go – to not only for meetings, but for basically any event.
Ditch the customary black suit for weddings. A mid-grey suit paired with a white shirt and a black tie is the perfect balance of laid back and formal. For something much more solemn, like a funeral, men's grey suits work great with all-black accessories – shirt, tie and of course, dress shoes.
Lighter greys work better for the more casual occasions, like a party or a fun dinner, but a darker shade of grey is better suited (no pun intended) for a stylish, 'I'm all about business' look.
Wrapping it up.
If you've had yet to realise the potential of a well-made grey suit, you have no idea what you're missing. Men's grey suits can give you the boost to your look that you're always striving for without being excessive.
No fancy accessories, no gimmicks and no flashy add-ons. Just a really great suit, no matter the occasion.