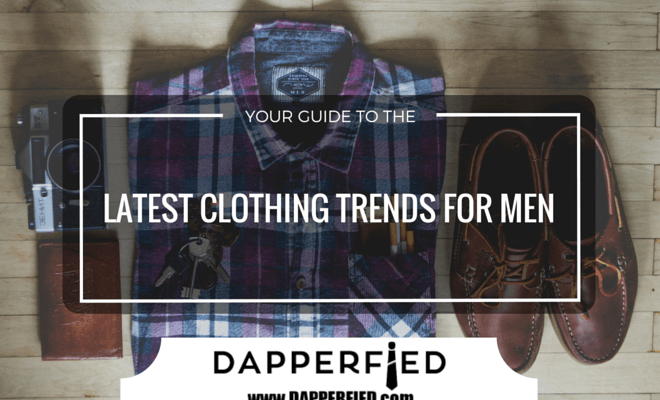 Style
10 of the Latest Clothes Trends for Men: Your Guide.
By
|
Fashion is an ever-changing thing with many faces. Remember the all-denim outfits of the turn of the century? Apple Bottom jeans? Or what about the (admittedly awesome) parachute pants of decades past?
Of course, as is the nature of fashion, all of these trends didn't last on a mainstream level, and instead were relegated to fringe movements. (Some might even say they're better left on the fringes.) Nevertheless, there's just something about fashion—something about how its trends are constantly changing, something about how it continues to appeal to people of entirely different classes, groups, and ethnic origins. What's so great about fashion—what gives it that special pull?
It might just be the fact that fashion has always changed the ways its presents itself, its epistemology of what is and isn't "in fashion." Or, to put it another way, people are attracted to fashion because of its ephemeral nature. By always changing and reinventing itself, fashion makes itself into something new every single time.
Changing fashion and the latest clothes trends for men.
This is no less the case than with the latest clothes trends for men. These 2016 trends are new and amazing, so we must enjoy them while they last—even if they don't last a very long time, as fashion trends (generally) sadly won't to do. Their excitement, fortunately, makes up for their often short-term fashion impact. After all, how many more khakis and chinos do we need?
So, without further ado, here we go. Let's dive right in!
10 current men's clothing trends that need to be noticed.
1- Tartan patterns.
The first of the latest clothes trends for men are tartan designs. Patterns styled on tartan—you know, that iconic Scottish plaid-like design, what with the greens and the yellows and, more than anything, the lovely scarlets—are now making the route in men's fashion circles. Although the traditional colours we've just mentioned are common, tartan patterns are getting a brand-new update, with bold, bright colours you might not automatically associate with tartan—colours like olive brown, bright blue, and medium-dark gray. Tartan is an excellent choice for a blazer or suit jacket. However, don't be afraid to go for tartan accessories—like bags, umbrellas, and scarves—either.
2- Shoes with Velcro and straps.
These shoes are cool, neat, and retro-looking—and maybe even a little vintage. They will certainly bring you back to your youth, in any case—whether the snap-by-yourself Velcro fasteners of your childhood running shoes, or those old Lacoste sneakers, perfect for lounging, that adorn the memories of your adolescence. They are a great choice in white of varying shades. This bright colour* (*or is white a shade?) is ideal because it will make all the cool straps stand out against your ankles. It goes without saying – these shoes are great for summer! Some designers are even mixing it up by creating formal/semi-formal shoes that are chock-full of neat features like these. Making a purchase decision in these cases is left to personal taste though – the style isn't for everyone.
3- Floral prints.
A floral shirt.
Another one of the latest clothing trends for men is the tendency to wear floral prints. Yes, you read that correctly. You don't need to be afraid of floral prints any more; they look surprisingly awesome. (Although, is it really that much of a surprise? Ladies have been wearing—and rocking—floral prints for a long time now, and they look spectacular.) You might think that floral prints are perfect for accessories, like scarves. While this is actually true, they look good for your tops too. Wear a shirt that has a floral print, and it will perfectly complement whatever pants you choose to wear below it. For the best look, grab pants (or, even more daring, jeans) that are the same colour as the base colour of your floral-printed shirt, whether it's a dress shirt or a casual shirt.
4- Shawl-neck cardigans.
Cardigans aren't just for ladies any more! On the contrary, nowadays they're used for men as well, so that they can keep themselves warm—or cool, as the case may be—in total comfort and style. In particular, shawl-neck cardigans—which fit well with many other kinds of clothes, including pants (denim or otherwise), blazers, coats, and jackets—are helpful because you can keep them opened or closed, whichever is more appropriate for different weather patterns. They're also ideal for both casual and work-based environments. All this being said, it's true that not all shawl-necked cardigans have buttons, so it might not seem like you can wear those ones in a closed fashion. However, if yours doesn't have buttons, you can keep it closed with the ever-useful safety pin (pro tip here!).
5- Cuban collars.
A quality Cuban collared shirt.
Shirts with Cuban collars—which are our next pick for the latest clothes trends for men—are also known as being cabana-collared or open-collared. This is a kind of collar—you'll see it on polo shirts as well as dress shirts, usually short-sleeved—that has an open collar, which is a little bit like a V-neck in execution. These collars hearken back to vintage 1950s Americana (and, of course, Cuba), but they are casual enough so that you can easily add a pop of style to your outfit without making others take undue notice. You can wear them to school, when out with friends, and to work (or even to job interviews!) Although they look great in a variety of scenarios and situations, Cuban collars are particularly great if you're pairing them with bright colours and bold patterns. And speaking of patterns…
6- Combining patterns.
The idea that matching patterns together automatically equals bad fashion is old hat. Designers have been experimenting with this method for decades now, and the results can often be quite stylish: stars with stripes, polka dots with abstract art—or heck, maybe even geometrics with florals. Whichever pattern you choose, mix and match them all together so that you can create an eclectic style that is uniquely you. You can match as many patterns as you like, or you can keep it more businesslike and stick to two patterns and solid colours for the rest of your look. But either way, combining divergent patterns is a terrific way of showing off your very own sense of style.
7- Crepe soles for shoes.
Crepe is a thick, prominent kind of rubber that you've surely seen before. Most often, it can be found protecting the soles of chukka boots and desert boots (particularly those made by Clarks). However, now designers—including famous names like Burberry—are including them into different kinds of shoes, including derbies, brogues, and even saddle shoes. This is something you won't see every day (rubber is used sparingly in fashion for a reason), so soak up this trend while it lasts. Crepe soles look wonderful on boat shoes, suede shoes, and even leather shoes. Don't be afraid to test the waters with them—they'll look great with any type of outfit!
8- Bomber jackets.
One hell of a bomber jacket.
Bomber jackets are a classic—but they're a classic for a reason. These jackets—which are military-inspired jackets suitable for cool to mildly cold weather, and which fall fairly closely around the body—have always been fashionable. They appeal to a plethora of looks and style senses, whether you'd like something more casual, something that matches into a military or biker-inspired look, or whether you just want a high-quality jacket that will keep you warm in the cold. Don't neglect this fashionable style element when you're planning out this year's fall wardrobe. Bomber jackets are amazing! You can find some great ones here.
9- Distressed denim.

This is one of the hottest fashion ideas when it comes to the latest clothes trends for men, but you might not be familiar with it. Simply put, distressed denim refers to denim that's made to look like it's been damaged in some way. Distressed denim often features artful rips and tears, and it tends to be more subdued—one might even say faded—in colour. Distressed denim has actually been an on-again-off-again trend in both men and women's fashion for several years, but this year it's truly back in style for the XY demographic. The great thing about clothes made of distressed denim is that it can fit in different ways: you can have a tighter-fitting pair of jeans with holes at the kneecaps, but an outdoor jacket with a soft palette and comfortable pre-bought wear and tear, too. These can come together in the most beautiful way. We've found some good choices for you here if you're looking to buy.
10- Baggy pants.
Another one of the most excellent latest clothes trends for men is pants that are large enough so that they sag a little. It sounds counter-intuitive, but surprisingly this old, twentieth-century fashion has popped up in recent times once more. They're a sharp contrast to the skinny jeans that pervaded the market up until quite recently—and frankly, they're much more comfortable. You might have your doubts, but—while these are valid—you might be surprised with the pants that you'll find if you just open your eyes. (If you get scared that they may fall off your hips when walking, never fear—you can just cinch a belt on them! Voilà!)
New trends: your chance to explore.
So, there you have it—the latest clothes trends for men in 2016. Which one do you like best? And, more importantly, which one will you choose next to up your style game?