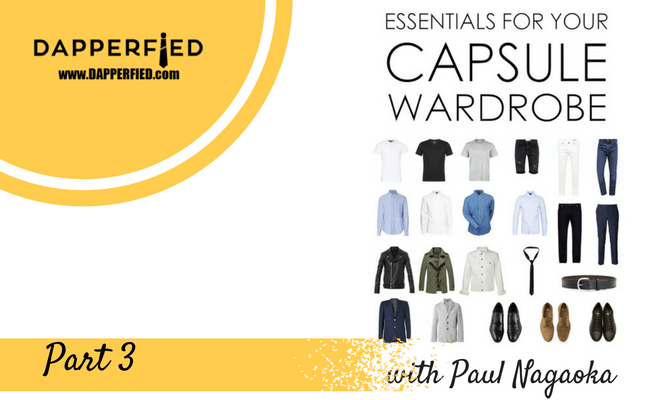 Dapperfied Collaboration Corner
How to Build a Men's Capsule Wardrobe: Part 3 (Pants)
By
|
Here is Part 3 in Paul's series on building a Capsule Wardrobe!
'WITH GOOD BASICS, YOU WILL HAVE ENDLESS OPTIONS.'
Introduction
Pants… don't leave home without 'em! Pants are the unsung heroes that play a critical part in what every man is wearing. You must wear pants that are the right color and fit to ensure the base of your outfit is on point.
Fit
Fit is very important for pants.  Be sure your pants are not too tight, as it can cut off the blood circulation to your legs and seriously, who wants that to happen to them? Nor do you want to have your pants so baggy that they hang down off your backside.
So, how can you find the perfect fit? The easiest way to check is to pinch the side of your pants and make sure there isn't more than two fingers worth of fabric up and down your leg. The exception is around your ankles, where a little bit more breathing room is perfectly fine. Also, your pants should gently hug your backside and not squeeze it tight.
Your Wardrobe
In your capsule wardrobe, you'll only need 3 pairs of pants. And believe it or not, they're all jeans. You need black, white and indigo blue (be extra careful on the last colour because it's a very specific shade of dark denim). Especially with jeans, I recommend investing in high quality pieces for that perfect fit, comfort and durability.
The last (and probably the least) bottom you would need in your capsule wardrobe is one pair of shorts. I own a pair of distressed black jean shorts because they are easy to match, and I just like them. Find a pair that fits your personal style (and you) and they are one of the 6 essential colors (black, white, grey, navy, olive green, baby blue).
There you go, you've got your bottom covered. Remember fit. Nail it, and you'll look like a boss everytime.
Coming up next – how to wear jackets to make each outfit interesting and unique.