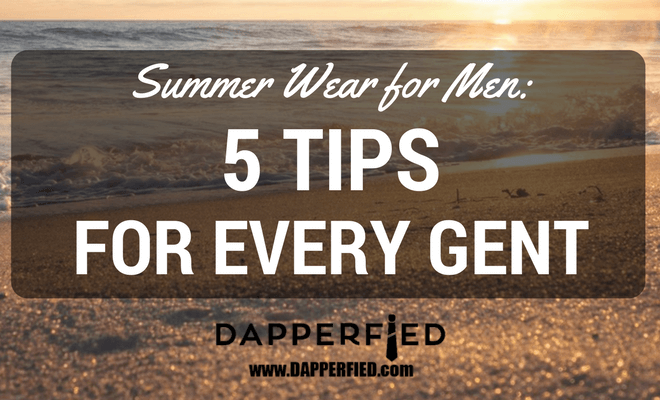 Style
Summer Wear for Men: 5 Tips for Every Gent.
By
|
When the heat of summer comes your way, it just makes perfect sense for a man of style to update his wardrobe. But, how do you dress well if comfort is your top priority when you go out into the scorching heat of the sun? Don't worry as we've got you covered. Here are some tips to remember when looking for the best summer wear for men.
Summer wear for men: Choose a Stylish Tee
As summer season approaches, you might want to invest in some quality and stylish new T-shirts. Considered as the most versatile garment of them all, T-shirts are a fashion staple available in a plethora of styles and shapes, including loose fit, slim fit, V-neck and crew neck.
The best thing about t-shirts is that you can wear them with virtually all types of outfit. You can choose to pair them with a jacket and suit pants to achieve a laid-back look for the office or combine them with shorts or jeans for a chilled out weekend vibe.  Tees are also cheap so you don't have to spend an arm and a leg to stock up on a selection of styles and colours.
Men's Summer Fashion: Go for Pink
Summer wear for men will never be complete without a touch of pink. After all, real men wear pink, right? Don't think twice. Go out and grab a warm and dusty rose hue for your wardrobe.
Depending on your own personal style, you can choose to go all out with your pink outfit, with different shades of the colour for the top and bottom half of your outfit. For an understated look, just add a touch of it by donning on a pink crew neck shirt under your tailoring.
Put on Well-Fitted Shorts
Although good old cargo shorts work for men who often need pockets for their stuff, today's trend calls for fitted and slimmer shorts.
These are not only stylish but they can also be a lot more comfortable and can be pulled off perfectly with your shirts and polos. Achieve a smarter look with shorts that fall just a bit higher than your knees.
Choose Slip Ons
In summer, your feet will tend to sweat a lot, which makes it a must to wear something breathable. A pair of suede or canvas slip-on shoes will let you ditch the lace-ups to keep you looking and feeling great.
You can opt for loafers, brogues or boat shoes but forget about your socks this time.
A Classic Watch is a Must
No accessory can ever beat the beauty of a classic timepiece. Wearing a watch is as much a statement of style these days as telling the time; so better get something stylish and keep looking cool no matter how hot the temperature gets.
Summer wear for men: Grab a Man Bag
Finally, weekends of summer mean escaping the everyday grind and heading out on that much needed trip. This is why a bag is also a must-have for your weekend trips.
You can get duffel bag or a backpack to add some exciting flair to your summer getaway outfit.
So, are you confidently ready to sizzle up the days of summer? With the above tips on summer wear for men, you're well on your way!