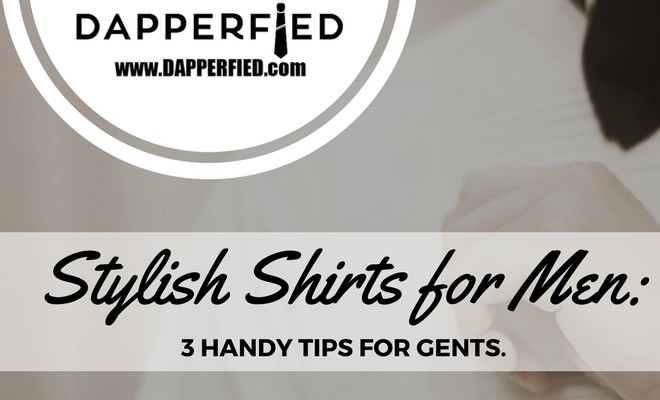 Style
Stylish Shirts for Men: 3 Handy Tips For Gents.
By
|
Even as the world of fashion constantly evolves with time, one thing remains constant, and that is the humble men's shirt is here to stay. Folks, today we're talking stylish shirts for men. A modern man's closet will never be complete without them.
Now more than ever, with the huge choice and variety of styles of men's shirts available to us – it's pretty easy to get overwhelmed. What do you choose? Which ones will look good on you? More importantly, which ones do you put on the avoid list?
We're all pretty busy these days and the temptation exists for one to just pick up what's in front of them. If you can relate to this – it's time to change the way you think when it comes to shopping for staple pieces for your wardrobe.  Picking the right shirts for your needs will require you to take your time, be attentive to what you're looking for and most of all patience.
Below are some simple tips to help you choose the most suitable and stylish shirts for men that will make great additions to your wardrobe.
Stylish shirts: Dress Up for the Occasion
Your shirt is one of the first things other people will notice about you. Some even say that like your outfit as a whole, your shirt is an extension of you. So, it is wise to pick a specific type of shirt for a particular event or occasion.
Every occasion will demand for a certain type, design or colour of shirt. For example, for a job interview, you should choose less extravagantly designed and light colored shirts. White and light blue shirts work really well here.
If you have a high profile job, were recently promoted or work in the "limelight" you can go for lively and bright coloured shirts for men. pastel yellow, green and pink are ideal colours to exude your authority and energy.
Of course, these colours are mainly a general rule. You still need to make sure you're thinking about how these colours fit into your personal sense of style and also ensure that they perfectly harmonize with the rest of your ensemble.
Stylish shirts for men: Solid vs. Striped
This has been an eternal debate among men as far as shirts for men are concerned – which ones do you go for? There are men who love striped shirts while others prefer solid colored ones. Obviously, it is all a matter of personal choice. If you want to go for a striped shirt, then, by all means, get one.
If you wear shirts on a regular basis with ties however, it is could be a good idea to choose shirts with solid colours. Solid coloured shirts are easier to pair with all types of ties, whether the ties are of solid or striped design. This kind of  versatile appeal might be difficult to compete with when it comes to striped shirts.
Stylish Shirt secret: Know Your Size
Finally, you have to make sure that you know your shirt size. If you haven't figured it out yet, measure yourself – this is vital. The last thing you want is to wear a shirt that is too big or small for you. It can truly ruin the look of your entire outfit. 
There are manufacturing companies that use numbers to denote the sizes of their shirts (e.g. 39, 40, 41, etc). Some use alphabets like S, M, L and XL, which stand for small, medium, large and extra large respectively.
And there you have it – 3 handy tips to keep in mind when looking for stylish men's shirts to add to your collection. Happy shopping!