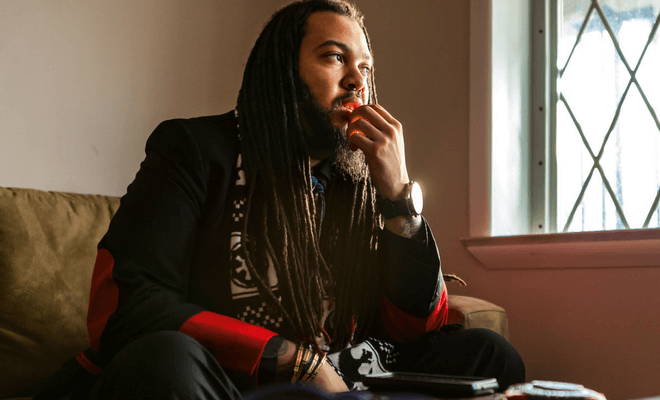 Uncategorized
Dapperfied BrandWatch: LeGrand Leseur Goes to Fashion Week!
By
|
LeGrand Leseur is an award-winning men's fashion designer based out of Philadelphia, Pennsylvania. You might recognize him from an earlier profile we did on him back in 2015. Leseur began designing men's fashion in 2013 in a response to what he felt was a deficiency in the market for quality, contemporary suit styles. Leseur's designs focus on adding colour and flair to classic suit looks.
His Clientele
His clients are mainly men who are tired of the status quo and want styles that are more daring and more interesting than what is currently available. Because his clothing designs are so dynamic, they have a distinctive look which is easy to recognize and is decidedly different from the other fashion houses and designers that currently dominate the market.
His Designs
Leseur's designs are nothing short of extravagant. With an eye for detail, Leseur is able to select often overlooked features of suits and emphasize them to create something entirely new and unlike anything else the world has ever seen. Colour is a major component of Leseur's designs, but the difference is truly in the details. From over sized cuffs to contrasting lapels and interesting button details, LeGrand Leseur's styles truly have a life of their own.
A man of many accomplishments
Leseur's trademark flamboyant style has earned him several awards in the Philadelphia area including the "Best Men's Fashion" and "Best Tuxedo" awards at Philadelphia's PHL 17's hotlist competition. His designs were also featured in The Huffington Post, which garnered him worldwide attention. Because of the excitement surrounding his men's clothing line, Leseur was also able to attend the 2016 Fashion Week.
With these major accomplishments under his belt in very little time, it's no surprise that Leseur is making another trip to the 2017 Fashion Week to present his latest clothing line.
2017 and beyond
So what can you expect from the LeGrand Leseur fashion power-house this year? More colour is a given, but you should also expect more variation in his designs and a slight departure from clothing that can strictly be labeled "male".
In fact, the designer is noted for his use of female models to display his men's clothing collection. This crossover approach emphasizes his flamboyant style, versatility in design and fresh, modern approach to fashion.
Leseur's advanced and whimsical suit designs are the perfect choice for modern gentlemen that want to separate themselves from the crowd. Keep an eye on the catwalk during Fashion Week this year to see all of LeGrand Leseur's latest styles.
Congrats!
Dapperfied would like to congratulate you LeGrand – on an amazing year filled with accomplishments and on once again making it to the prestigious Fashion Week. It will certainly be a show to remember!