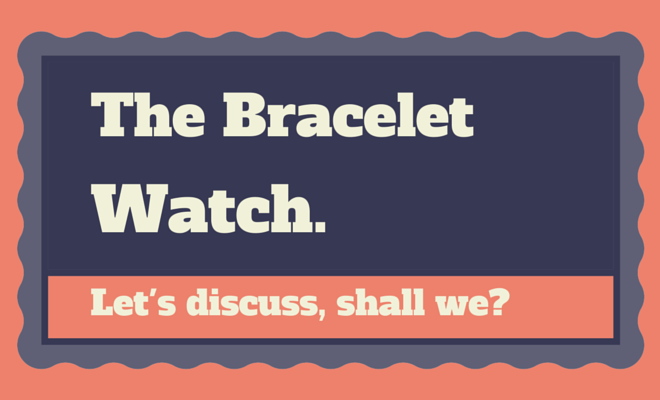 Watches
Here's the Low Down on Bracelet Watches
By
|
Have you ever been in the situation where you had to choose between putting on your favourite timepiece and dressing up your outfit with a bracelet? Maybe you've been in a situation where you've had to go to a formal event and you've had to leave your watch behind because it didn't match your outfit. If you've ever had to choose between a bracelet and a watch, you've probably never heard of bracelet watches.
Bracelet watches: Let's delve deeper.
What They Are
Simply put, a bracelet watch is a watch with a bracelet as the band. That's right, someone actually combined the world's two most popular wrist accessories into one unique item, thus bringing the bracelet watch into the world. Designers all over the world jumped on the idea, pairing functional watch faces with stunning bracelet designs in a variety of styles, colours and shapes.
The bands can be made with a variety of materials including leather, gold, silver and more. Most styles include gems or another jewellery element on the band, giving the watch a distinct jewellery look. Bracelet watches are classified as jewelry items rather than watches, and they can usually be found in jewellers or the jewellery section of department stores. Depending on the materials used and the style, they can range in price from very inexpensive to thousands of dollars.
When They are Appropriate to Wear
A bracelet watch can be worn with casual, dress or even formal attire. There are really no rules as to when it is appropriate to wear a bracelet watch, and your use of the accessory will depend on a variety of factors including your personal style and the type of event you plan to attend.
In general, the bracelet watch is preferred when the wrist will be visible and the wearer is attempting a softened look. This is usually when wearing dress or formal attire. Traditional watch styles usually work well with casual attire, though the bracelet watch is perfectly acceptable.
Picking a Good Bracelet Watch
There are dozens of different bracelet watches on the market, but not all are created equally. When choosing a good bracelet watch, it's important to look at the construction, the style and the quality of the watch itself.
When considering the construction, focus on the band of the watch. You'll want a bracelet that won't fall off your wrist, and you'll want a secure closure. The watch portion of the bracelet can be heavy, so delicate bracelets won't always be secure enough. If the design includes links of any type, test them to make sure they are secure.
Next, you'll want to consider the style of the watch. Think about how you plan to wear it. Are you buying the watch for one particular occasion or will you be wearing the bracelet watch with several outfits? If the latter is true, opt for a more neutral style that will work with most of your outfits.
Finally, examine the watch itself for quality. A bracelet watch still has a function, so it's important to make sure that it does what it is intended. If the watch doesn't hold the time well or if it is hard to read, you might as well just select a bracelet. Put the bracelet watch on if you can and see how difficult it is to check the time. That will tell you if it will work as a watch as well as an accessory.
Once you find a quality bracelet watch in a style you like, you'll never have to worry about choosing between a functional timepiece and a stylish accessory ever again. Take a look today and discover what just may have been missing out on.