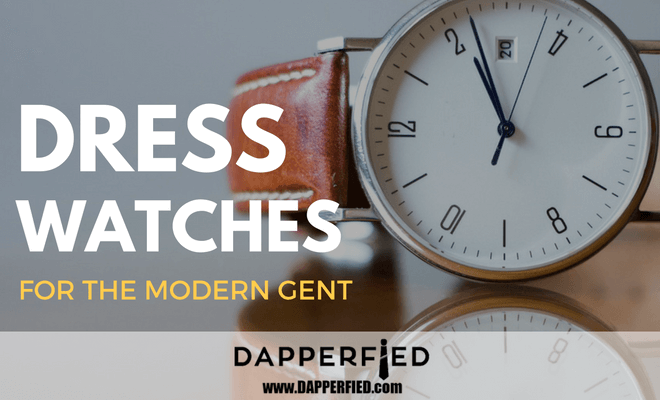 Watches
Dress Watches for Men: What the Modern Gent Needs to Know.
By
|
Would you like to look great every time you go to a business event, a formal ceremony, or even when you're just hanging out with your friends? If that's the case for you, then you'll find there's a simple way of accomplishing this: by wearing dress watches. A high-quality men's dress watch won't just inform you of the time—it will also ensure that you look stylish and cool.
They work very well; they are made of premium materials; and they're formal, yet understated enough that you can wear them to a night out on the town.
Of course, you might not be totally convinced just yet of how great dress watches for men are. If that's the case, allow me to enlighten you. But first, we'll begin by discussing why wearing a dress watch is a great choice for every man who aspires to be stylish.
3 reasons why every man should have a dress watch
1- There's always a need for one.
Whether you're attending a fancy party, a charity fundraiser, or a work event, you'll want to dress to impress. Not to mention, dress watches are absolutely vital for job interviews.
To make sure you look your best, you don't only need a quality suit, tie, and leather belt—you'll also need a great-looking watch that tells the time but appears timeless all the while.
In events like these, a dress watch beats your old Casio from 2003 hands down, wouldn't you agree? Don't get me wrong – there's a place in your watch collection for your Casio (if that's your style) – it would just be more suited to a different situation.
2- You can wear one for years and years.
Plenty of other watches might start to go after two or three years, especially if you use them often. However, a well-made dress watch can last much longer.
Part of this, of course, is due to the fact that you probably won't wear it as much as you might another watch. That being said, even if you were to wear your dress watches more regularly, they tend to last longer than their everyday counterparts.
They're made of higher-quality materials, their batteries last longer, and they're constructed in such a way that they don't fall apart as often, or as easily.
The good ones also tend to be more comfortable, so you won't mind wearing them for that many years.
3- Dress watches for men complement many kinds of outfits.
An ideal dress watch will look great with a huge variety of outfits. This is because their designs, which are often simultaneously simple and complicated, are not overtly flashy, and they don't stick out too much.
Indeed, their designs are more on the subtle end of things—the kind of design you'd admire at a distance (before going up to the wearer and asking them about where they got their excellent watch).
As a result of all this, men's dress watches will easily complement different outfits.
Another reason they do this is because of their colours; they're often done up in black, silver, or darker shades of brown, green, and blue—all shades which can easily match a business suit, a night out, or any other event. These colours also allow them to match up with cufflinks, neckties, and buttons as well.
Men's Dress Watches: What makes a good dress watch
There are several components as to what makes a good men's dress watch. The obvious one, of course, is whether or not it works properly. A good men's dress watch should work well, regardless of whether it's a quartz watch (a watch which is powered by batteries) or a mechanical watch (which is powered by many tiny parts moving together in harmony).
Another thing that determines whether a dress watch is good is the quality of its build. Some aren't built exceptionally well; some might have weaker straps, for example, while others might have faces that break more easily. A good dress watch should be durable and sturdy.
Finally, a good dress watch should look good. To determine this, simply place it on your wrist when you see it at the store. You'll know if you like its style or not.
Ultimately, you can gauge if a watch is good or not by checking out online reviews. They'll point you in the right direction, and they might even suggest a watch that's perfect for you.
You can find such reviews here along with watches for sale at really good prices. If you still need some extra guidance, consider talking to your local jeweller about a watch you might be interested in.
Browse Baume & Mercier Watches
7 things to look for when choosing a dress watch for a night out
1- Quartz or mechanical?
As we've said, quartz watches run on battery, while their mechanical counterparts work purely by mechanics.
Quartz watches tend to tell the time more precisely, but mechanical watches are much more impressive, particularly to wristwatch connoisseurs. Quartz watches tend to be less expensive as well. (Not to mention, if you get a quartz watch, then any skeleton design it might have—i.e., a design that features the inside—will most likely be a reproduction, rather than the actual inside of the watch.)
Both options serve the purpose well though, and—unless you're going to a clock making convention—no one will notice what kind of watch you have. Thus, the type you'll choose will depend on your particular tastes (and wallet).
2- Is someone else likely to have the same watch?
Admittedly, this is not your greatest concern. Nevertheless, it can be annoying to purchase the perfect watch, only to find out that a friend is wearing the exact same model. Don't be afraid to stray off the path when you're searching for a watch; your search doesn't have to be limited to your local mall.
3- Watch out for comfort.
Let's face the music together: there's no point in purchasing a watch that isn't comfortable for you. Sure, you might wear it from time to time, but doing so won't be a pleasant experience for you. Wearing it might even be so unpleasant that you regret it later.
Moreover, while some uncomfortable men's dress watches look great, you can almost certainly find a very similar—and much more comfortable watch—for the same amount of money, if not for a lot less.
4- Consider getting a pocket watch.
When you hear the word "watch," you're probably thinking of a wristwatch, right? But there's another kind of watch as well: the humble pocket watch. Nothing looks quite as classy as opening up your pocket to take out a beautiful pocket watch with intricate designs on the back, consulting the watch, and then gravely telling the time to whoever's asked you.
A pocket watch is an elegant, classic way of reading the time—a way which will, to boot, get you in touch with the nineteenth century. It's good to get a pocket watch in general, too. You can put it in your bag if you're worried about it getting stolen, and its chain ensures that you can keep your wrists free if you want to wear fancy gloves for, say, a wedding, funeral, piano recital, or costume (Phantom of the Opera much?).
5- Will it get stolen?
A dress watch is great and everything, but you don't want someone to lift it off your wrist when you're riding the subway. To account for this, make sure you can slip your perfect watch down into your sleeve when travelling in sketchier areas. Also consider buying two dress watches—one for fancier events, and one for when you're out with friends.
6- Will it attract unwanted attention?
Some dress watches are funkier than others, with bold colours, funky shapes, and interesting designs. Of course, it's always important to showcase your own style; but be aware that more unique designs might cause strangers to look at you oddly, thinking, What is he doing?
7- Pay attention to style.
Style is a necessary component of the best watches. If you haven't got a watch that looks great, there isn't really as much of a point. Of course, you'll be able to use that watch to check what time it is—but you could do the same with a cell phone.
For stylish, well-dressed men such as yourselves, half the point of purchasing a nice watch is that it will help complete your outfit, as well as give you personal satisfaction because you like the way it looks. Thus, when you're shopping for a new men's dress watch, you need to get one whose aesthetic you're fond of.
Browse Frederique Constant Watches
Men's Dress Watches: Our picks
Raymond Weil Maestro Watch
This here is an automatic watch that includes date display in a 39mm case and is water resistant to 50m (although it is pretty unlikely that you would wear it while in the water). Definitely a watch that would look great on any wrist.
Tissot Tradition Chrono Watch
This Tissot analog watch comes with a 42 diameter case and a 20 mm band width. It is water resistant to 30m. The brown straps accent the silver dial very well, resulting in a very good looking watch at very reasonable price indeed.
Frederique Constant "Heart Beat" Watch
This watch has a rose gold plated dial with brown leather straps, although you can also purchase it in different colour combinations. Check out the movement at the the 12 o'clock position – fantastic! A great watch to add to your collection. It is water resistant to 30m but really, as with most watches such as this – it is not intended for swimming/diving.
Baume & Mercier Classima Watch
This is one cool, classy watch. Just check out that outer 60-second dial! It comes with a 42mm case, automatic movement, analog display and a black leather band. Quite a versatile watch that can easily transition from one event to the next. A great dress watch to consider.
TAG Heuer Carrera Watch
TAGs really don't need an introduction – everyone knows they are great quality watches. This particular one comes with a 43mm case and brown straps. A bit different to the usual, sportier tags you see around but fans of dress watches will definitely see the appeal here. The gold plated hands and numbering really melt in well with the silver dial. The watch also has the added benefit of a chronograph feature!
Check it out here
Obviously, these are just a few suggestions for watches you might consider when looking for a quality dress watch to adorn. For a larger selection, this spot literally has thousands of watches to choose from. As mentioned earlier, just be sure to read the customer reviews before you make a purchase.
The men's dress watch: an excellent way of expressing your style.
At the end of the day, if you'd like to show off your amazing fashion sense—as well as ace that job interview, impress your boss, and help gather donations for your favorite charity—then a dress watch is the way to go. Their designs are simple yet complex at the same time, and their colours match with every outfit. They're built solidly, and you can wear them for several years without worries.
Mind you, though—these are all just our opinions on the subject. But what about you? What do you think? Let us know in the comments below!