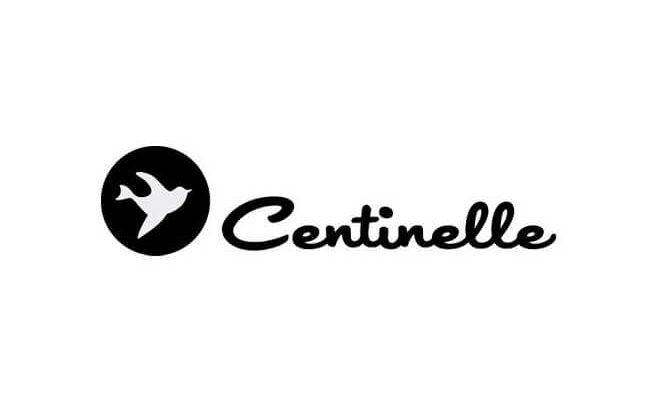 Dapperfied BrandWatch
Centinelle: Men's Pocket Squares & Scarves
By
|
Woollen scarves are a classic look when it comes to men's wear, but there's something about the elegance of silk scarves that adds an extra touch of style to any outfit. Now, when it comes to finding fashionable silk scarves for men that aren't boring or your typical everyday designs, you might find yourself wondering: "Is it really worth it? Or should I just stick to wool?"
There are often cool and creative designs for women's silk scarves, but often, men aren't as fortunate. Luckily, you don't have to compromise your sense of style for convenience. With Centinelle, you can have both.
Centinelle actually started off as a women's scarf brand, later developing trendy men's silk scarves and pocket squares as well. It was launched in 2010 by Cristina Guizar. Cristina wanted to start a brand that would combine creativity and quality to cater to stylish folk everywhere, and so – Centinelle was born.
Cristina Guizar prides her brand's work on its pure craftsmanship. All of Centinelle's silk scarves and pocket squares are handmade pieces that express creativity that's unlike anything found in your typical store. Cristina's fun and unique designs take inspiration from her hobbies and interests; which include travelling, gardening and arguably most of all, cats.
That's right – Centinelle's designs each hold a very personal piece of Cristina's heart. Each design tells a story, as quirky as it may be, and shows off superb imagery that mimics art styles from various eras. What's more, in the spirit of true patriotism, Cristina Guizar stays true to her roots by incorporating pieces of Mexican culture and imagery into her designs.
A closer look at the beauty of Centinelle
As mentioned, Centinelle offers a variety of silk scarves and pocket squares to men who aren't afraid to step out of the box and be a little daring with their style. Centinelle's stylish and personalised products are fun, playful and eccentric, and are definitely for men who are young at heart with a great sense of humour.
To show you exactly what we mean, let's take a look at three of Centinelle's amazing products.
100% Silk Mexican Dolls Scarf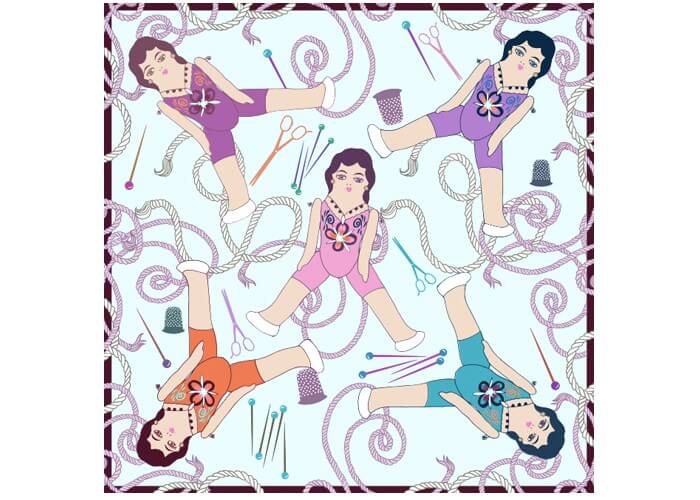 This adorable little scarf is one of Centinelle's gems. Measuring at 90 cm all around, this 100% silk scarf is a clear reference to a part of traditional Mexican culture: Mexican rag dolls.
Mexican rag dolls are very popular in Mexican culture, and are thought to have originated in the south of Queretaro. They are also referred to as "Marias," or "muñecas de trapo," which translates to rag dolls.
The origins of these intricately made rag dolls have been traced all the way back to 1970 in Amealco, though many other states have been known for producing them as well. These rag dolls are often dressed in different types of dresses and clothing with different facial features, but their common feature is a wide, smiling face.
This scarf design is a fun and playful change from other dull patterns that are often seen with men's scarves.
Its cultural reference also allows the wearer to experience and appreciate a part of another culture, which is more than can be said about many designs for men on the market today!
100% Silk Pedal Boats Pocket Square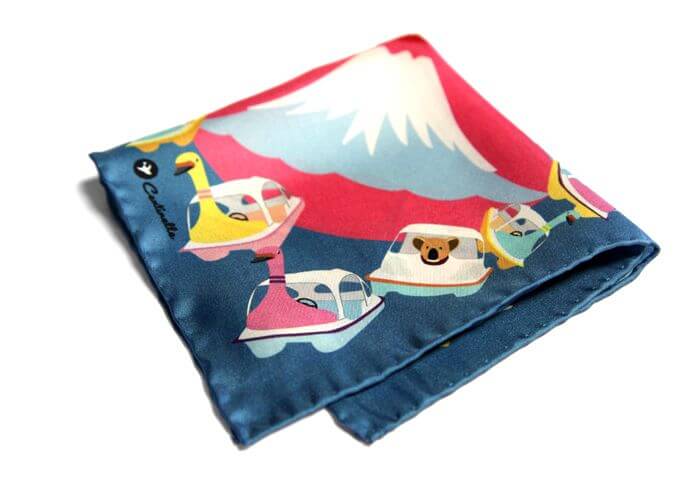 Much more playful and designed for those who are still kids at heart, this pocket square is more than enough to make friends and colleagues look twice. At 30 cm all around and with carefully hand-rolled edges, this unique design depicts a couple of animal friends relaxing in pedal boats.
Unusual? Definitely. Insanely fresh and exciting? Absolutely.
This playful design can take the overly-serious atmosphere out of your style, even if you're at work. What you wear certainly has an effect on how you feel, and this little number will have you feeling light and positive, even in the face of piles of paperwork and countless telephone calls.
100% Silk Cat Abduction Pocket Square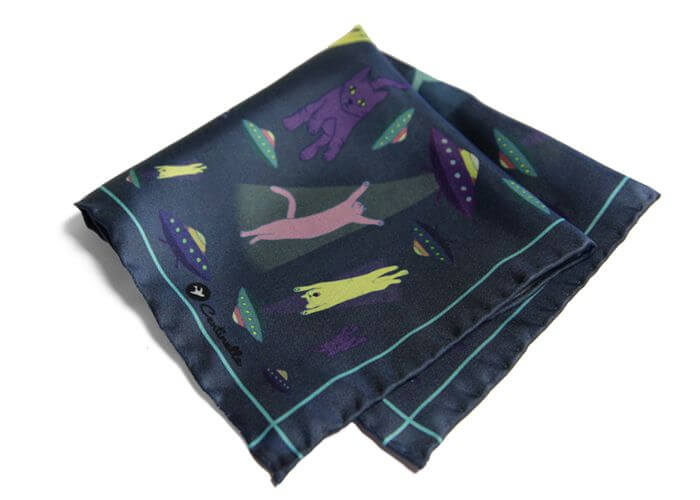 With identical measurements to the 'Pedal Boats' pocket square, this square is 30 cm all around and sports the same hand-rolled edges. However, apart from Cristina Guizar's ode to Mexican culture and her display of animals in pedal boats, this pocket square shows another very real love of hers – cats!
More specifically, it shows cats being abducted by aliens. How likely are you to find this design on any other pocket square? Not very, I'd say – and that's a good thing.
If you're a cat lover yourself, you'll probably fall in love with this design right away. It's charming, it's one-of-a-kind and it's of superb quality. That's a combination that you won't be able to resist.
It's a wrap!
Cristina Guizar has definitely not missed the mark with this one. With its 100% silk base, impeccable individuality, and stunning imagery, Centinelle is the perfect choice for quality scarves and pocket squares for men who aren't afraid to stand out.