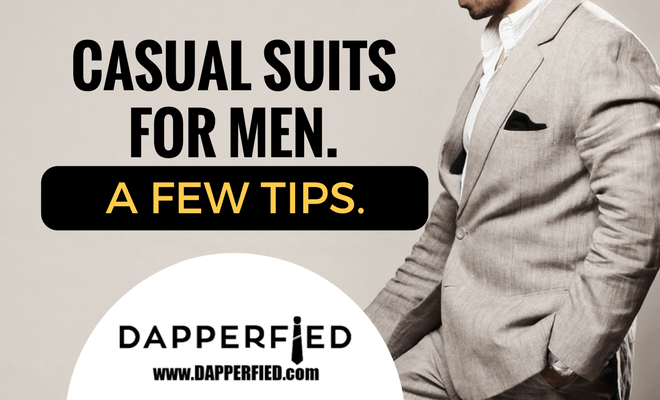 Style
Casual Suits for Men: A Few Tips.
By
|
We're talking casual suits for men today. Formal suits and business suits definitely have their place in the offices and business meetings of the professional world, but casual suits definitely have their time and place too.
Casual suits for men can be made up of a jacket and close-fit trousers/jeans or a sports coat and trousers. It's the next best thing for the stylish gentleman, as it brings all the class of an office-oriented suit with the trendy, laid-back vibe of casual wear.

It's a win-win, and the right suit can immediately boost your image. Here's what you'll need to know to master casual suits for men.
A well-tailored suit is the key to pulling off the casual look.
Sometimes, your usual casual get-up isn't enough. Ill-fitting, baggy casual suits that sag off of you while simultaneously swallowing you up are never a good look. To avoid striking out at the casual suit game, ensure that your suit is tailored to fit your body frame perfectly.
Here, you pretty much have two options. You can either purchase a suit and choose to have it altered to suit you, or you can have a suit made from scratch with your specific measurements.
Of course, having a suit tailored/altered to fit you always works, but for that extra-precise fit, a suit made from scratch with your body type in mind is much more exact.
Whether you're short and slim or tall and wide, a good tailor will know just how to alter your suit to flatter your form in the best possible way.
Find quality casual suits here.
The simplest addition can take your casual suit to another level – a pocket square!
Pocket squares aren't only for formal suits! These little additions can make a casual suit even more attractive, for much the same reason that they do on a formal suit.
Asymmetry is an understated but extremely effective way to give your look that extra kick. Having a pocket square on just one side of your suit jacket means that the left and right sides of you don't mirror each other, which makes things just a bit more appealing to look at.
This is even more so if your shirt and shoes are dressed up rather than down – a pocket square ties the whole look together.
Keep things casual, though! It's best to stay away from an overly formal colour for your pocket square, like a crisp white. Instead, pocket squares with patterns or ones that go with the colour scheme of your suit should be used.
When are casual suits for men appropriate to wear?
Your casual suit will take you through many occasions, some of which may surprise you! Outside of casual dinners, here are two other occurrences where the casual look is a winner.
That first date: For a first date with a potential love interest, donning a suit will make that first impression unforgettable. It's a look that any woman will love, and it's just the thing to boost your confidence and take you smoothly through the date.
Certain job interviews: if you're heading to a job interview for a laid-back workplace where the office dress code is super casual, the casual suit can be the perfect balance between formal and relaxed.
Wrapping it up.
To keep your casual wear a notch above the rest, try a suit. You'll be amazed at how much sharper and more attractive you feel, and you'll wonder how on earth you ever settled for jeans and a nice shirt. 🙂