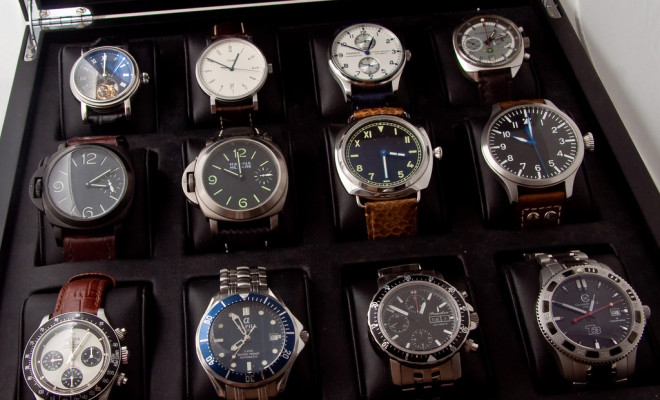 photo credit: State of the collection 7-10-09
Watches
Buying a Watch Box for Men Who Love Their Watches
By
|
If you're a fairly casual watch wearer, you may not have put much thought into storing or protecting your watch. Thing is, we spend so much on a quality watch, it really does make sense to take care of it. Sometimes we get a box to put our watches in when we buy one, but they're usually a bit impractical or not made of high quality materials, so it seems like a waste to use.  However, you should consider buying a watch box for men who want to secure their investment a little bit better.  Let's look at some factors to keep in-mind when looking for a watch box.
Watch Box for Men: A Box of all Trades
Obviously you're going to be looking for the best box to store your watch, but you'll soon realize that many watch boxes for men have additional utility for storing more than just your watch.  You can find watch boxes that allow storage of all types of little rings, cuff links, and etc.  A step above that, you will also find watch boxes that have built-in watch winders for an extra level of convenience.
After considering the extras that come with them, your watch box should be an opportunity to showcase your timepiece and make for a pretty decent conversational piece.  You can get a watch box for men in a ton of different styles and materials: wood, steel, leather, and even gold.  The lid can also be made in crystal or glass to allow for better display.  What I would do is buy a watch box that best compliments the interior of your room that it's going to spend most of its time in.
Never get a watch box that is not lined in a soft material, no matter how cool that all-mahogany finish looks, that is just asking for your watch to be scratched over time.
If your watch box isn't for display purposes, try to look for a watch box that is built to withstand punishment and has the best layer of protection on the inside.  These watch boxes are usually no-frills and come with some sort of warranty to guarantee protection against scratches, breaking, or water-proofing.
Finally, if you're a major watch enthusiast, you might be better off looking for a modest display case for your watches, rather than a typical watch box.  Custom display cases might cost a bit more than most watch boxes for men, but they might be a better idea for those who own more than a handful of watches.
You can find a selection of watch boxes for men here. Thank us later! 🙂