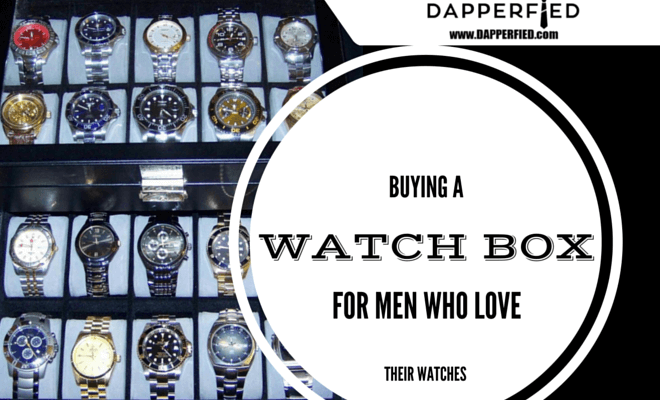 photo credit: Alexkerhead
Watches
Buying a Watch Box for Men Who Love Their Watches
By
|
Today, we're talking watch boxes or watch cases for men. If you're a fairly casual watch wearer, you may not have put much thought into storing or protecting your watch. Thing is, we spend so much on a quality watch, it really does make sense to try take care of it. In many cases, our watch purchases come with a case by default but they're usually a bit impractical or not made of high quality materials, so it seems like a bit of a waste to use.
There are other instances when we have multiple watches lying around that need housing. It's times like these that a watch box comes in handy – a watch box for men is a must for those who want to secure their investment a little bit better.  Let's start with some background on watch boxes.
Watch boxes for men: What are they?

A watch box or watch case is exactly what it says on the tin (or rather, box): it's a box that you place your timepieces inside. Depending on the type you buy, you can put one or multiple watches inside a box. Many of them have glass-topped cases, so that you can look in with a glance to verify what's inside.
They are ideal because they protect your watches when you're not using them, in a tasteful, beautiful way. If you get bored of their intended purpose, you can also use these watch cases to store other things, such as jewellery or cuff links, or even just as a cool box or decoration piece. Watch cases for men are actually quite versatile as you can see! Ultimately, they're a great way to store your watches–much better than a normal drawer in your jewellery box or, worse yet, just lying around in your bedroom (the horror!).
A simple, multiple-watch watch box.
Watch Boxes: Why do people need to use them?
A watch box for men is a great accessory to have if you need to store your watches. The reason for this is that they protect your watches from the elements – like dust, moisture, humidity, and bugs and other creepy-crawlies – when they're not in use. They're also protected from scratches and scrapes, so you can drop the box by accident (not that we recommend this) without worrying. The wide variety of styles of watch boxes available ensures that you'll have a stylish place to store your timepieces for every occasion.
Watch cases for men: The different styles of men's watch box.

Many a watch box for men is made out of wood. This choice is classic and well-made, and usually polished to a finish. However, the problem with the wooden ones is that they are more likely to be damaged by moisture and humidity, which are actually quite common elements in many households.
Watch boxes are also made of leather. These will effectively protect your watches with their smooth interior, and – to boot – they definitely look like they're of amazing quality, on account of the leather.
There's also the option of getting your watch cases with a cushion/lining or not. We strongly recommend that your watch box for men has such a lining; this will protect your watch from being scratched while it's in storage. It will also protect your watch in the event that it falls down or is dropped (which, incidentally, also constitutes protection for small earthquakes!).
As mentioned before – some boxes can store many watches, while others can store a single timepiece. Although both are good choices, it is better to get one that can store many. This is especially helpful if you are contemplating adding new pieces to your watch collection.
Even if this isn't the case, you likely have several watches stockpiled up somewhere, and there's probably not a lot of space for them. Getting a watch box that's just for you is more convenient than storing them in your girlfriend's jewellery box (and, for that matter, better than hanging them from her Pinterest-y jewellery-type-bulletin-board-thing).
Would you prefer a watch case for men that's topped with glass, or one that looks like tiny chest of drawers, like a small jewellery box? They are both available. You can also get a watch box for men that's a simple case that's tucked away, so no one can see your timepiece unless you open it. This option is more private – almost like you're sharing a secret with the tiny box.
Watch Box for Men: A Box of all Trades

Obviously you're going to be looking for the best box to store your watch, but you'll soon realize that many watch boxes for men have additional utility for storing more than just your watch.  You can find watch boxes that allow storage of all types of little rings, cuff links, etc.  A step above that, you will also find watch boxes that have built-in watch winders for an extra level of convenience.
After considering the extras that come with them, your watch box could be an opportunity to showcase your timepiece and make for a pretty decent conversational piece.  As mentioned above, you can get a watch box for men in a ton of different styles and materials: wood, steel, leather and even gold so choose one that suits your individual personality and intended use.  The lid can often be made in crystal or glass to allow for better display.  If you like matching your pieces to the interior design of your home, a good idea would be to buy a watch box that best compliments the interior of the room that it's going to spend most of its time in.
If your watch box isn't for display purposes, try to look for a watch box that is built to withstand punishment and has the best layer of protection on the inside.  These watch boxes are usually no-frills and come with some sort of warranty to guarantee protection against scratches, breaking, or water-proofing.
Another style of watch box for the watch enthusiast.
Watch cases for men: 5 tips on what to look for when buying men's watch boxes.
Okay, so these tips below will help you when you're out there looking to buy your perfect watch box. Read closely! 🙂
1. Look for a watch box that has alternate uses.
It's entirely plausible that, someday, you might get tired of storing watches with this box – maybe you're upgrading to a new box, or maybe you'll just feel that it's time for a change. In these cases, having a beautiful watch box can surely continue to serve you (especially if you've paid good money for it). You can continue to use it to store cuff links, pins, or your wife's brooches. So, make sure that you pick wisely with any watch box you get and that you can keep using it, even after you've changed watches.
2. Take durability into account.
You want a watch box that's strong, solid, and one that will last for many years. You don't know how many watches you might end up putting in it over time. So please don't cheap out and get a model which will break after a month. Instead, spend a little more to get a stronger option. The fact of whether the box holds one or many watches must also be taken into account.
3. Don't forget about style.
Watch boxes are usually on display in your house – on top of your dresser, for example, with a glass top – so you'll want to impress guests when they come over. To contribute to this impression, get a beautiful watch box in a timeless style or a funky one with different colours, if you prefer. The choice is up to you. You can choose from different materials mentioned above – materials like metal, leather, wood, plastic, or rubber. (Okay, maybe not rubber. Unless you're into avant-garde art pieces, that is.)
4. The box absolutely needs to have a cushiony lining on the inside.
This is so that it can protect your watches at the same time it stores them. If there isn't a lining and instead there's just hard material inside, your watches will surely get scratched while they're roosting in there. Without this protection, imagine how much your watches will be suffering!
5. Purchase a box or case that's compatible with your budget.
You can get a well-priced box without needing to sacrifice quality or even style, so don't rush to get a cheaper model. Check this place out. You'll be able to find some really great deals on watch boxes. Carefully review the options available to you by looking at all the buyer reviews that are included; they'll tell you which watch boxes will get you the most bang for your buck while still remaining congruous with your style. If you've found a cool looking men's watch box and the price is good with you, then it may just be "the one."
A quality watch box to store your watches!
3 tips on how to care for your men's watch box.

1. Clean them regularly.
To clean a watch box, you really only need to empty it out and wipe it down with a cloth. If your watch box for men is also made of a smooth material–like wood, plastic, or metal–then you can wipe it down with a wet cleaner as well. Please be advised, however: this option is not ideal if the box is made of soft fabric. Once you're done wiping away the dust, replace your watches and close the box carefully. You can also clean the dust out with a clean, fine brush.
2. Check the contents every so often.
Open the box every few months and make sure that your watches are in fine condition. You never know when something might happen to them so that they become damaged without you knowing. You can counter this by looking at the watches every so often, to make sure that everything's going fine.
3. Keep them away from potential threats.
Watch boxes don't fare very well in a dirty household: sure, your watches might be safe, but the box itself could get ruined. To ward against this problem, clean and dust your bedroom often, and be vigilant for signs of mould or decay. Be sure to use a feather duster it get rid of all the dust completely. Aerate the room by opening up the windows now and then; don't let it become stale and musty in there.
Watch cases for men: 3 tips on how to get the most out of your watch boxes.
1. Show it off to guests.
Okay you know you want to! It's nice to have a sleek watch box, but you'll get more enjoyment out of it if others can enjoy it, too. You can showcase your lovely taste in choosing cool style related-items and impress your friends and family at the same time. (Maybe they'll even be jealous of you!) To some folk, there's nothing like making your friends (and frenemies, and heck, maybe even mortal enemies) swoon with envy. Zing!
2. Store multiple watches inside it.
This is the simplest–and, perhaps, most useful–way of maximizing your watch box usage. If you use it for one watch only, then you won't be able to admire the box properly. The glass-topped versions look especially good with a bunch of beautiful watches inside them.
3. And finally, give it away when you're done with it.
The absolute best way of making the most of your watch box is ensuring that another person can share the coolness of a good watch box. When you don't need it any more, give it to a friend or a family member, or donate it to your local thrift store. Or heck, you can even be an awesome dad and pass it onto your child. Either way, you're continuing the cycle, which is also good for the environment, to boot. Way to go!
A Watch Box for Men: perfection in a box.
So we already know watch boxes are obviously a great way of storing your watch(es). However, they also make great gifts for the special men in your life. They're more unusual gifts, and they serve a much-needed purpose which is unfortunately often neglected. So, if you've been thinking about moving your watches around, a watch box for men just might be the solution that's perfect for you. Again, we recommend this spot to begin your watch box search – we hope you find it useful. Let us know how you go!