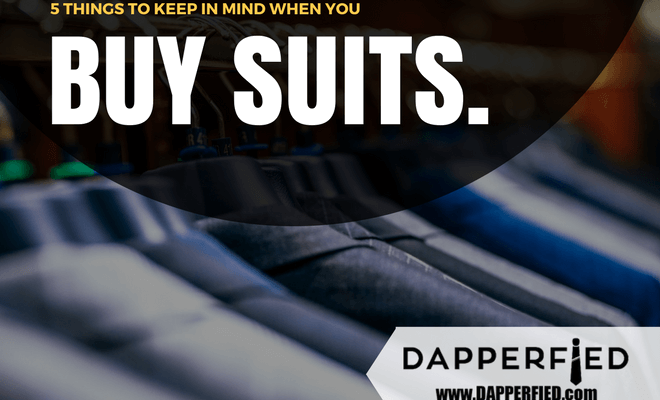 Style
5 Things to Keep in Mind When You Buy Suits.
By
|
Getting all dressed up is a great feeling. There are few articles of clothing that can make you feel like a good suit does. We all need to buy suits at some point in life and as such, finding the right suit takes focus and a bit of attention.
The tendency is often to not put much thought into your suit shopping, but let's change that.
Here are the top five things to keep in mind when you buy suits.
What am I willing to spend?
Knowing your budget is the first step in having a good purchasing experience. If you can realistically spend $200 but you let yourself buy a $600 suit with money that was meant for bills, groceries or savings, then you aren't adhering to a budget the way that you should.
Your budget will determine the grade of suit you receive, but that isn't to say that there aren't suits out there that can satisfy smaller budgets. Whether you set a $200 limit or a $900 one, stick to it! You'll prevent yourself from regrets after purchase.
What style am I going for?
American or Italian suit? Slim-fit or looser fit? Double-breasted or single-breasted?
Knowing what you want before trying suits the is key to having a stress-free experience. This keeps you from being torn between three or four different styles and not knowing which to choose. The style you choose may depend on the purpose you're buying it for, your body shape and just plain preference. Either way, know what you're shopping for and look at only that style! It'll save you valuable time.
Buy Suits: What colours are smart buys?
When it comes to colour, you'll want to think about one major thing: how wearable the suit will be. For instance, orange might be your colour, but if you're shopping for work suits, how well does a bright orange suit fit into your conservative office dress code? Not very well, unfortunately.
Instead, stick to blacks, navy blues, charcoal greys or light greys. Opt for adding funky colours and patterns to your wardrobe only after you have an adequate collection of the essentials.
How is the fabric quality?
You want to buy a quality suit that's durable and comfortable. If you can afford to spend a bit more, your suit's fabric should be top of the line.
100% wool suits are the standard, but if you must opt for something that contains synthetic fibers, the least you can do is ensure that it doesn't exceed 5%. Wool-silk and wool-cashmere blends are perfectly fine as well.
How much tailoring will I have to do?
A suit that fits your body right is the end goal, but often times, tailoring is an extra cost that many of us choose to forego. In all honesty, getting your purchased suit adjusted at the tailor afterwards is oh so worth it. Just getting your hemline done or waist taken in can change the entire look of your suit.
To make sure that you have the least amount of tailoring to do, try to find a suit that fits your body with as much perfection as possible and then get minor alterations done where needed to seal the deal. 🙂
Wrap up
Being prepared before looking for your suit and knowing what to look for is key to having a successful purchase. If you want to ensure that you don't make any mistakes or have any regrets after your experience, these 5 guidelines are a terrific place to start. Hope you find them useful!