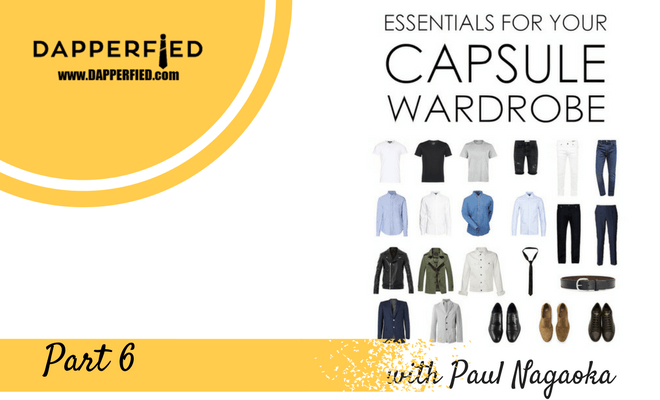 Dapperfied Collaboration Corner
How to Build a Men's Capsule Wardrobe: Part 6 (Shoes)
By
|

Here is Part 6 in Paul's series on building a Capsule Wardrobe!
GOOD SHOES TAKE YOU TO
GOOD PLACES.'
– Seo Min Hyun
THE CAPSULE WARDROBE: SHOES
The last piece in our Capsule Wardrobe series…shoes. Never underestimate the importance of good shoes as you complete your outfit and your overall look. This is the final touch before you leave your house to take on the world – now that's power.
COMMUNICATE THE SAME MESSAGE
Your shoes need to communicate the same message as the rest of your outfit. When you have your formal shoes on, the rest of your outfit needs to be formal. The same goes for casual.   
FIT IN
Just like going to school for the first time, all you want your shoes to do is blend. Fit in. Not attract any unnecessary attention. Let your outfit (more importantly, YOU) make the statement, not your feet.
FORMAL
Your formal shoes should be black, polished, have no frills and no wing tips. Black matches with everything and that's exactly what you need for your formal look.
BUSINESS CASUAL
Business casual shoes are a whole different genre of shoes and are pretty specific. My pick for this is a dark gray pair that's made of a suede material, again, with no frills.
CASUAL
Freedom! This is the pair where you can showcase your personal style. You will wear this shoe the majority of the time, so find something you like and that is comfortable to you. I personally love a black sneaker as they are very versatile. Another option would be a gray sneaker.
Wrap up!
There you have it gentlemen, every single article of clothing you'll need in your capsule wardrobe laid out piece by piece for you.