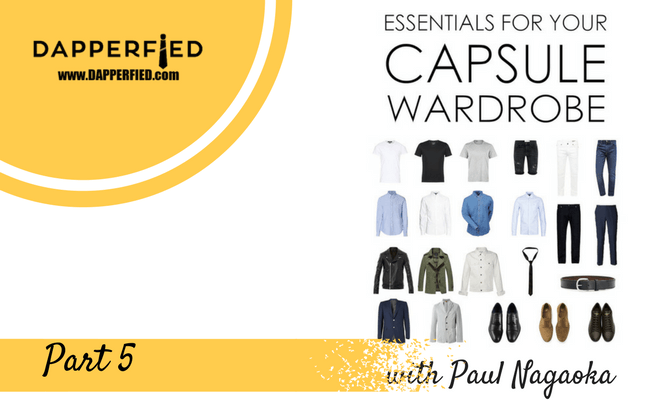 Dapperfied Collaboration Corner
How to Build a Men's Capsule Wardrobe: Part 5 (Suits)
By
|
Here is Part 5 in Paul's series on building a Capsule Wardrobe!
'EVERY MAN LOOKS HIS BEST
WHEN WEARING A SUIT.'
– Sam Ramsey
Introduction
Introducing every man's power piece; the suit. When approaching "the suiting game," I am  going to lay out everything you'll need to know to look and feel just like James Bond.
COLOuR
Classic suits are made out of only 3 colours: navy, gray and black. These are timeless colours that you can repeat over and over again and look suave every single time. Colours other than these three become trendy and are more difficult to make work when wearing repeatedly.
If you have frequent formal occasions to attend, you'll need more than one suit. But, the majority of us will only need one suit: a navy blue suit. Surprised? A navy suit can be worn at work and for all other occasions without looking "too formal." A classic black suit is amazing, but can be too much both in and out of the office.
Always wear a white shirt underneath your blazer. The bottom of the sleeve should hang past your suit jacket (even when you move around) about a half an inch.
FIT
Your suit jacket should be relatively tapered around your waist area. The button shouldn't be pulling as that means it's too tight. On the contrary, you do not want it too loose either. The seam of the jacket sleeve should align where your shoulder meets your arm. You do not want it too close to your neck (too small) or down your arm (too large).
You want your pants to have a nice relaxed fit. Once again, not too tight or too loose.
FINISHING TOUCHES
Find a suit coat jacket with thin lapels as wide lapels will accentuate the width of your face. For that reason, I would also stay away from bow-ties and wide ties. The black skinny tie will be on point every time. I also love to add a basic silver tie bar for a touch of detail.
For you wild ones out there… please do not try to mix and match different suits because each one is made out of its own material, texture, fabric and colour. Suits are made just the way they should be worn. This incredible classic will make you stand out every time you do it right.
Next up, how to get from here to there with your perfect shoes!