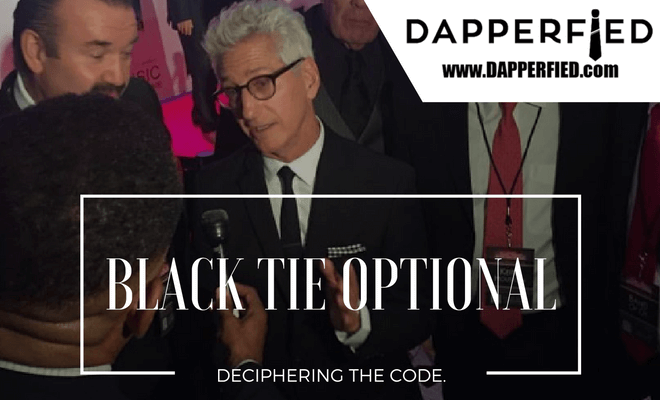 Dapperfied Collaboration Corner
Black Tie Optional: Deciphering the Code
By
|
Gents, today's contribution is from our friend Chris Keaton – a Nashville TN based entertainment industry executive and consultant, 2016 Inductee to the North Carolina Music Hall of Fame, bon vivant and lover of great music, wine, fashion and fast cars. You might remember him from his previous contributions at Dapperfied.com. He's back with some insight on Black Tie events. Take it away Chris!
Your mail reads, "You are cordially invited to (insert event here)…black tie optional".
OMG!!…what do I wear? … What does this mean?  You're fearful, right? …I can smell the fear from here.
Gentlemen, I know that when you get an invitation which suggests this attire, it may be a bit confusing. But, trust me,  there really is no mystery to it at all.
From stylecaster.com:
"If you receive an invite with the term "black tie optional" know that it mostly applies to men who may or may not own or want to wear a tuxedo. For women, it means you have the option of wearing a full-length gown, or opting for a cocktail dress, so long as the hemline isn't too short or the style isn't too revealing."
So, to be clear, if you so desire, bring out the tuxedo, the pleated white dress shirt and bow tie (hand tied, of course!). Shine your opera pumps and go for it. Particularly if you own your own tuxedo and wish to get more value from your purchase, these occasions are wonderful and welcome. Most gentlemen I know truly enjoy having the opportunity to dress up and show off a bit.
We will discuss correct tuxedo wear in another post, but for now we will focus on the black suit.
The black suit works too.
Yes, this attire directive also means a black suit, white shirt and tie are perfectly acceptable attire for the occasion. Let me repeat….perfectly acceptable.  One can look dapper and elegant in a well fitted suit, tie and freshly shined shoes.
As one who is fortunate enough to be able to attend many music and entertainment industry events, I must say these simple rules are lost on most.  The men I see at these affairs will wear basically anything and seem to be under the impression it is perfectly okay.  Well, I am here to say it is most certainly NOT okay.
Here are two main reasons why it is NOT okay:
First and foremost, it is a discourteous affront (if not a downright insult) to the host of the event, as well as the other guests who took the time and trouble to show up dressed appropriately. It simply isn't done.
Secondly, it is bad form and sends a message of ignorance for social behavior.  That should be the last impression any self respecting gentleman would want to make.
My advice to you, dear reader, is to purchase a great fitting, all occasion black suit.  Once you find one in your comfort zone and price range, take it immediately, IMMEDIATELY (do NOT pass Go, do NOT collect $200) to your tailor.
You DO have a tailor, don't you?  If not, ask your friends – the best dressed ones for a recommendation.
Visit the tailor and spend the few extra dollars to have the suit fitted to you.  Trust me on this, a $400 suit will look like a $1000 Made to Measure suit by having a good tailor work his magic. The compliments you will get on the suit will make it all worthwhile.
Do this, and never fear the black tie optional invitation again.
Until next time, friends….be nice!